National cyclist, Alanzo Greaves will look to repeat as champion when the Flying Stars Cycle Club organized Victor Macedo Memorial road race pedals off this morning.
This season's most successful cyclist will however be tested by rival wheelsmen like national road race champion, Raynauth Jeffrey, Robin Persaud, Orville Hinds, Marlon 'Fishy' Williams and others who all have victory in their minds.
"I'm looking forward to defending and repeating as champion" Greaves declared yesterday.
The Roraima Bikers Club standout also added he is in peak condition and despite a formidable pack of rivals once he rides to his championship ability, back to back wins are on the cards.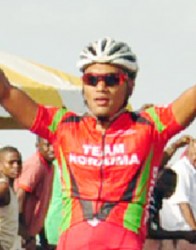 Today's 11th annual, 90km event rolls off at 7:30hrs from Peter Rose Street continues to Dora on the Linden Soesdyke Highway and return to Homestretch Avenue for the finish.
The veterans and females will turn back at the hill at Splashmin's.
For today's road race, the first eight senior riders will cart off monetary prizes and trophies with the winner pocketing $50,000. The top four juniors, top three veterans and top two females will also be awarded handsomely.
Last year, Greaves stopped the clock at three hours, nine minutes and 31 seconds to take the spoils ahead of Linden's Rastaff O'Selmo.
Around the Web