Former Caribbean Boxing Federation (CABOFE) welterweight titlist, Simeon 'Candy Man' Hardy has been reinstated as champion and will replace Jamaican, Sakima Mullings in the WBC Cup.
So said president of CABOFE, Peter Abdool yesterday during a sit down with Stabroek Sport.
Mullings, 31, earned the right to be CABOFE's representative in the Cup following a unanimous victory over Howard 'Battersea Bomber' Eastman in April for the then vacant title after Hardy migrated to the USA to ply his trade and vacated it.
However, according to Abdool, the Jamaican, who is a former resident of the USA would not be able to acquire a US visa for the November 15 fight in Miami, Florida versus Joan 'Little Tyson' Guzman and hence he had to be replaced.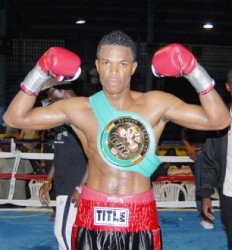 "Sakima cannot represent CABOFE in the tournament because of difficulties in acquiring a visa for the fight next month," said Abdool.
"We had no time for a box off so I recommended Hardy and he is excited about facing Guzman," Abdool added.
The undefeated 26-year-old Hardy, who is best known for his trash talking and 'chin checker' punch, has fought 10 times in the professional ranks and has knocked out seven of his opponents.
Most notable was a 20-second demolition of Patrick Boston in his debut bout in October 2010.
Guzman, 37, will represent FECARBOX and has a record of 33 wins; two losses and a draw with 20 of his victories within the distance.
The Dominican Republic born Guzman has knocked out twice as many opponents as Hardy has fights.
Abdool added that despite Guzman's resume, Hardy's manager, Tim Gibson from Columbia Boxing Club in Columbia, Tennessee, is confident of the 'Candy Man' tasting victory and move on to the second round of the lucrative tournament.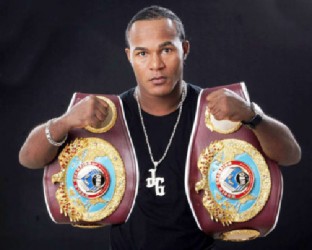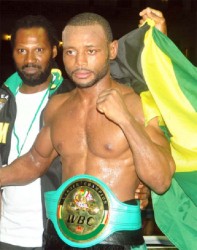 At the conclusion of the WBC Cup, the winner of each division will walk away with US$250,000 and even the very first round of elimination fighters according to reports, may earn as much as US$20,000 to US$30,000 for the loser and US$50,000 to US$70,000 for the winner, sums that are usually not readily available at this stage of a fighter's career.
Meanwhile, Guyana's pound-for-pound king, and CABOFE featherweight and light welterweight ruler, Clive 'The Punisher' Atwell (11(6)-1-0) will take on Benin's Justin Savi (22(18)-2-0) in his first bout in the Cup on November 22.
The Atwell/ Savi featherweight fight is scheduled to be staged in Morocco.
However, before 'The Punisher' steps in the ring against Savi who represents the African Boxing Union (AFU) he will look to pad his record against Jamaican, Glenroy 'Bumpy' Beckford next Sunday at the Cliff Anderson Sports Hall.
Around the Web