CHENNAI, India,  CMC – West Indies One Day International cricket captain Dwayne Bravo, is set to spend his 30th birthday today, filming his movie debut in an Indian thriller.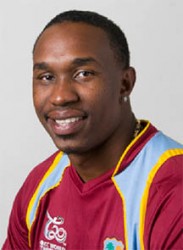 Bravo, a flamboyant and renowned entertainer, with two singles already released in collaboration with Grammy-award winning superstar Beenie Man, will feature in a specially created song and dance sequence for the much anticipated Tamil movie, 'Ula,' directed by the highly-respected Rajan Madhav.
This is Bravo's first film role and he feels it is fitting that his debut will be in an Indian movie.
"India is like my second home now, so I was thrilled when my agent presented the opportunity to me and more so, when she mentioned it was going to be filmed in Chennai, a city to which I obviously have a deep affiliation as a member of the IPL team, Chennai Superkings. I love the people of Chennai and the people of India, and I am relishing the opportunity to work with a talented and highly respected cast and crew in my first film," Bravo said in Chennai.
Although the famed Chennai Superkings team lost in the semi-final round of the Cricket Champions League tournament on Friday, Bravo was excited at the prospect of still giving something back to the adoring Chennai public – this time in the form of exhibiting his trademark song and dance moves in the movie 'Ula,' which features an impressive Indian cinematic cast including Ajmal, Viddharth, Ashok, Radhika Apte, Gayathrie and several other acclaimed stars.
"It was totally unplanned that filming happened to fall on his 30th birthday, but it is a very special way for him to celebrate reaching this milestone and is a testament to all that he has achieved, and continues to achieve" Bravo's representative, Emma Everett said. Contrary to his image, however, it is not all about glitz and glamour for the gifted all-rounder, who is often referred to as the talisman in the much loved West Indies international cricket team for his incredible energy and confidence. Bravo will, as he does every year, spend his birthday visiting shelters for the homeless and children's orphanages, to provide to the needy.
"It is something I do on my birthday each year. I have been very fortunate in my life, and I try to give back as much as I can to others who are less fortunate. During my birthday this year, I will take a break from filming to go and provide for a homeless shelter in Chennai," the humble star stated.
Around the Web