DELHI, India,  CMC – The West Indies Cricket Board (WICB) wants to forge closer ties with the Board of Control of India (BCCI).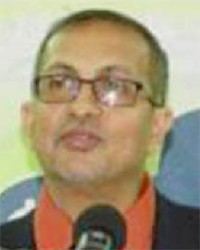 WICB Director Baldath Mahabir has been meeting with key stakeholders of Indian cricket on the margins of the Karbonn Smart Champions League Twenty20 Cricket Tournament in India.
His mission was to explore different opportunities for the regional cricket board and cricketers.
Mahabir who has been busy with different meetings in Delhi, told the T&T Guardian:
"West Indies and Indian cricket has had a long association and the WICB under Dave Cameron wants to make this very fruitful indeed," Mahabir told the Trinidad Guardian.
"I am here and to explore a number of things with the BCCI and other bodies that we hope can lead to better relations and in the long term progress for WICB and its cricketers."
The BCCI, the financial powerhouse in world cricket wields a lot of power and some people say, they even run world cricket because of their influence over the International Cricket Council (ICC), the world governing body.
Mahabir said he has made great progress so far but some of the things he cannot divulge at this point because they are at a sensitive stage.
"I have had some very good meetings and at this stage it would be difficult to divulge the information because we are still negotiating a number of things. However, what I can tell you is that for example, we have a regional 50 overs tournament and with the regional T20 not under our care anymore, we are looking to have a great spectacle for this tournament.
"T&T will play host of this tournament for three years and who knows, we can get Indian and other foreign cricketers playing in this tournament. This is just one of the possibility that is being explored here."
Around the Web