The Guyana Rugby Football Union (GRFU) is scrambling to ensure that enough funds are acquired for Friday's booking deadline for the men and women's teams to compete in this year's NACRA Sevens championships in the Cayman Islands in November.
According to president of the GRFU, Peter Green, the national Sevens teams (male and female) are in "a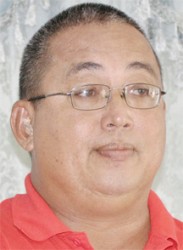 desperate race to make the booking deadline by Friday and as a result the union is pleading for individual and team sponsorship of the ruggers."
Competing and regaining the NACRA championship will see the men's team, the six-time champions qualifying for the Hong Kong Sevens in March which will enable them to represent the region at the CACSO Games in July and the Commonwealth Games in September.
"Participating at the NACRA Sevens is a must," said Green. "It is very important that both teams attend," he added.
The local women are three-time champions (2006-2008) and are determined to return to the winners circle as the Union strives to firmly establish women's Rugby.
Meanwhile, both teams have been training very hard under the guidance of assistant coaches, Laurie Adonis (males) and Kenneth Grant-Stuart (females) along with fitness and conditioning specialist Barrington Browne.
The training, said Green, has been intensive but rewarding as the ruggers are approaching the fitness and form required for regaining the title they surrendered to Mexico last year.
Guyana had been the powerhouse of Sevens Rugby with an unparalleld record of winning six consecutive championships from 2006 – 2011.
Their runner position to Mexico last year is considered a hiccup with the players even hungrier to regain their title and establish their superiority.
Once enough funds are accrued, the team will depart for the Cayman Islands on November 8.
Around the Web