Mark Lashley bested a field of some 30 golfers to win last Sunday's
United Insurance-sponsored tournament at the Lusignan Golf Club.
Lashley,(22 handicap) ended with a net 65  after finishing with a gross of 87 to beat into second place former national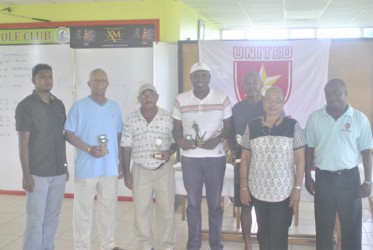 U19 cricketer Alfred Mentore who ended with a net 66 after finishing with a gross of 73.
Club captain Chatterpaul Deo (8 handicap) was third with a net 67 after finishing with a gross of  82 while Banks DIH's Clifford Reis (20 handicap) was fourth  after finishing with a net 68 and a gross of 90.
Mentore was the winner of the Nearest to the Pin and Best Gross awards.
United Insurance, an agent under the John Fernandes Insurance Company Limited representatives Administrative Manager Gail Robinson, Gregory Roberts and Safraz Sahid were on hand to present the prizes.
Robinson, in a brief address to the players, expressed thanks to the Lusignan Golf Club for again having her company sponsor the third such tournament.
She noted that it had been a great opportunity to partner in sport and golf and said she was looking forward for more such cooperation in the future.
Club Captain Chatterpaul Deo told the gathering that the club was very grateful for the sponsorship, the third of this nature and expressed thanks to the sponsors on behalf of the players and executives.
Around the Web