Boxing superstars are not born into the role, they earn that title by paying their dues usually in the amateur ranks then onwards and upwards to the pay-per view arenas that holds the sport's true riches.
On Sunday at the Cliff Anderson Sports Hall, eight of the nation's top Simon Pures will be in action with aspirations of someday fighting for riches under bright lights in pay-per view arenas.
Newly crowned 'Mackeson Fight Night' lightweight champion, Stephon Gouveia and his opponent Anandram Dharamraj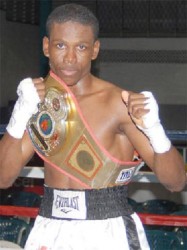 will be toiling towards fame in the headline bout of the amateur segment of the 30th edition of the Guyana Fight Night Pro Am card.
New sensation and middleweight champion of the Mackeson tournament, Kevin Rodney will look to continue his winning ways. His rival for Sunday night, Trevor King however will look to end that winning streak while Stephon Nedd and Mark Marshall will both be aiming to raise their fists at the end of their bantamweight bout.
Executives of the Guyana Boxing Association (GBA) have also pitted Orin Bancroft against Anthony Miguel. The Bancroft/Miguel 105-109 lbs will start off proceedings on Sunday at 20:00hrs.
Meanwhile, the professional segment of the card will feature Caribbean Boxing Federation (CABOFE) featherweight and light welterweight champion Clive 'The Punisher' Atwell.
The undefeated Atwell (11(6)-0-1) will take on Jamaican brawler Glenroy 'Bumpy' Beckford in an eight-round lightweight contest.
Two other CABOFE champions' middleweight, Edmond 'Wonder Boy' DeClou and flyweight Dexter 'De Kid' Marques will also be in action.
DeClou, will face hard hitting Berbician, Derrick Richmond in an eight-round affair while Marques, the flyweight champion will lace it up against new sensation Richard Williamson in their super bantamweight fisticuff also scheduled for eight rounds.
The 'Wonder Boy' (14(3)-1(1)-1) as well as 'De Kid' (12(5)-2(2)-0) have both been out of the ring in excess of seven months and will look to dust off their ring rust with victories.
Kishawn 'Special K' Simon will also take to the ring to oppose David Thomas in a four-round welterweight contest.
Admission cost is $1,000.
Around the Web