President of the Georgetown Football Association (GFA) Vernon Burnett said yesterday that the recent threat of Court action by the Kashif and Shanghai Organization against the Guyana Football Federation (GFF) if the 24th edition of their event is run parallel with the GFA competition simply has no merit.
In an exclusive interview via telephone, the GFA boss said "They can make attempts to take them (the GFF) to Court but I don't think they have any merit. What is the reason? The GFA has been given a mandate to plan, organize and develop football in Georgetown and by extension in Guyana," said Burnett.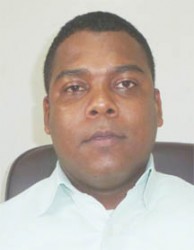 "That is our mandate and that is what we are doing. Why would anyone want to stop the GFF or GFA? I agree that if they fulfill the requirements then they should be given permission, likewise with the GFA."
He went on: "It is not a smart thing to do at this time. I don't think football should be put through that situation right now. The hope is that good sense will prevail and they don't go down that road."
Questioned if the Kashif and Shanghai Organization simply does not want to compete against their Banks Beer Cup tournament, Burnett said: "I guess! Because over the past two years the GFA would have received tremendous support. It seemed they would not have had that level of support.
"We did not have all our clubs at that time. Now they are all back home. FIFA has spoken, CONCACAF has spoken and the people have spoken. Once you follow the rules, you should be given an opportunity," declared Burnett.
Asked about the assertion by the Kashif and Shanghai organization that they built that football time period, Burnett said: "I don't think any particular time is assigned to anyone. If anyone wants to hold a tournament at any time, they can, once they comply with the rules.
"The difficulty is that other associations have agreed to be a part of the Banks Beer Cup and we welcome them onboard. We are happy to unite the football family," added Burnett.
Meanwhile a Guyana Football Federation (GFF) official, who spoke on the condition of anonymity stated that the Kashif and Shanghai Organization simply has to fulfill the stipulated requirements to be able host their tournament and should not try smear the image of the GFF, by suggesting/stating that they are being prevented from hosting their event.
According to the source, the Kashif and Shanghai Organization have been told what they have to do become eligible to host the event but they simply have not presented anything substantial.
"They have not been told no but they have come forward with nothing. They should be doing what the Georgetown Football Association (GFA) is doing right now which is to try and get things in place," said the source.
"All that they have asked for is the permission to host the event. They have to put their budget, levy fees, lodge their prize money or submit a letter of commitment from the sponsor/sponsors as well as the acknowledgements from the respective teams and associations and a tournament fixture and date to the federation.
"Honestly I don't think they want to disclose their financial status of the event. It just seems like they do not want to do that. I don't know what they are going to do but their aim is for themselves," added the source.
Asked about his thoughts on the organization, the source said: "As an organisation they are very professional as a money-making organization should be."
Around the Web