The resurfacing works on the athletic track at the National Park have been stalled after one of the main heavy duty machinery stopped working almost a month ago.
According to President of the Athletic Association of Guyana (AAG), Aubrey Hutson the National Parks Commission "have an equipment problem right now where one of the main equipment that they are supposed to use to dig out one of the culverts to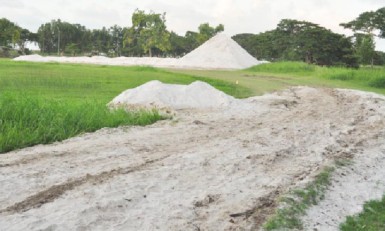 drain the internal side of the park is not working."
As a result, works were halted on the resurfacing of the track which is used by The Running Brave Athletic Club and other clubs.
While at the National Park yesterday, Hutson revealed that "they have basically just stock piled the materials for the work but nothing significant has started as a result of the machinery problem".
The AAG president also stated that he met with Chris Fernandes, General Manager of the National Park last week and "he gave us all assurances that once the machinery is fixed they will restart the work as soon as possible."
Meanwhile, Hutson intimated that the 11th edition of the South American 10km race which will be staged on October 27 will conclude in the National Park.
Said Hutson "This year we have decided to bring it into the National Park and give it an atmosphere like where the New York Marathon ends in Central Park, we want to bring the athletes into the park to finish the race, that way they will have enormous crowd support."
Hutson continued "We think the atmosphere in the park will be a great place to end the race."
Around the Web