Boxing fans get ready, the long-awaited 30th edition of the Guyana Fight Night Pro Am card featuring three Caribbean Boxing Federation (CABOFE) champions is just two days away.
Besides the stacked 28 rounds of fistic fury involving CABOFE champions, Clive 'The Punisher' Atwell, Dexter 'De Kid' Marques and Edmond 'Wonder Boy' DeClou, fight fans can also look forward to a clutch of incentives when they attend the Cliff Anderson Sports Hall (CASH) on Sunday.
During yesterday's press briefing at the National Communications Network (NCN) Studios, Atwell, DeClou and Marques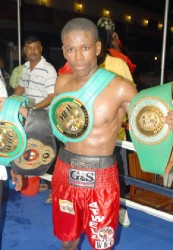 as well as Marketing Manager of the Guyana Boxing Board of Control (GBBC), Michael Fung spoke on what boxing buffs can expect.
Atwell, the undefeated CABOFE featherweight, junior welterweight and local featherweight and lightweight titlist declared that patrons can look forward to a "classical, dominant" performance.
"It's another stepping stone for me" Atwell told media operatives yesterday. I look forward to a challenge from Beckford and I also look forward to putting on a classical, dominant boxing display."
The 25 year-old 'Punisher' (11(6)-0-1) will headline the card against Jamaican brawler Glenroy 'Bumpy' Beck ford  3(1)-8(3)-0 in an eight-round lightweight bout.
The 'Wonder Boy' (14(3)-1(1)-1) as well as 'De Kid' (12(5)-2(2)-0) have both been out of the ring in excess of seven months and were confident of dusting off their ring rust with victories.
"I am always confident heading into the ring" Marques declared. "On Sunday I will let my fists do the talking, I can't wait to step in the ring."
Similar sentiments were echoed by CABOFE middleweight ruler.
DeClou, will face hard-hitting Berbician, Derrick Richmond in an eight-round affair while Marques, the flyweight champion will lace it up against new sensation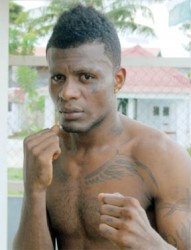 Richard Williamson in their bantamweight fisticuff also scheduled for eight rounds.
These three highly anticipated match ups as well as the welterweight four-round duel which pits David Thomas against Kishawn Simon is set to ignite the CASH.
If that is not enough motivation to attend the card, Fung highlighted that three lucky ticket holders will win a Blackerry Smartphone, a Nike Sunglasses and two cases of Premium beer.
Weigh in time in 19:00hrs.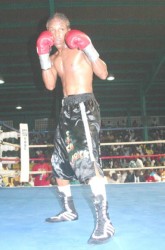 Meanwhile the professional bouts will be also be complemented by four amateur match ups.
Stephon Gouveia will take on Anandram Dharamraj (lightweight), Kevin Rodney matches gloves with Trevor King (middleweight) and Stephon Nedd will face Mark Marshall.
Executives of the Guyana Boxing Association (GBA) have also pit Orin Bancroft against Anthony Miguel (105-109lbs).
Admission for Sunday's card is $1000 and bell time is 20:00hrs.
Sponsors for the event include Banks DIH Limited, Courts, Digicel, Fly Jamaica, Giftland Office Max, Guyoil, King's Jewellery World and the Ministry of Tourism.
Around the Web