The Athletic Association of Guyana (AAG) held the official launch of the annual South American 10km Road Classic yesterday at the Guyana Olympic Association (GOA) building.
The 11th running of the nation's most lucrative road race will be staged on October 27 and is scheduled to attract the cream of Guyana's, South America's and the Caribbean's distance athletes.
A championship trophy and US$1000 will be awarded to the top senior finishers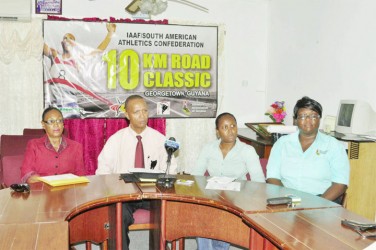 in the men and women's categories.
The first, second, third and fourth runners up will pocket $US600, $400, $US300 and US$200 along with trophies respectively.
Junior athletes (16-20 years) as well as Masters (Women 35+), Men (40-55) and (56 and above) will also take home trophies and cash prizes.
The top four juniors will receive US$200, US$150, US$100 and US$50 each while the top four Masters (Women 35+), Men (40-55) will run off with US$150, US$100 and US$50 respectively.
Masters (56 and above) top three finishers will collect G$25,000, G$15,000 and G$5, 000 in that order.
The event will commence at 15:30hrs on Carifesta Avenue (in front of GT&T), proceed to the University of Guyana and return to the National Park for the conclusion.
Entries ($1000 Open), ($500 Junior and Masters) for the race closes on October 18.
According to president of the AAG, Aubrey Hutson, the event is scheduled to attract in excess of 200 athletes.
Hutson also encouraged athletic enthusiasts to "Come out and support our athletes on and give them that sense of accomplishment at the end of this race."
He added that the AAG was "Encouraging the casual runners, the part-time runners, the joggers in the park, the joggers on the seawall to come out and be a part of this as well because we feel that fitness and being an athlete is part of your health, come and be a part of a great event."
Athletes will not have to worry about the traffic issue because, according to the AAG president, the entire route will be on traffic lock down for one hour and 15 minutes.
When quizzed on medical services for the athletes Hutson stated that the association has written to the Red Cross and the Guyana Defence Force and they are both onboard.
"Time keeping will also be of a high standard," Hutson declared.
Last year's senior male and female winners were Cleveland Forde in 33 minutes and 35 seconds, Trinidadian, Tonya Nero (38:06).
Around the Web