The Guyana Wado-Ryu Karate Associa- tion (GWRKA) has received a donation of mats to enhance training techniques of members for local competitions.
The donation of two a pair mats was made by Lennox Brummell, an old member of the Wad-Ryu who recently returned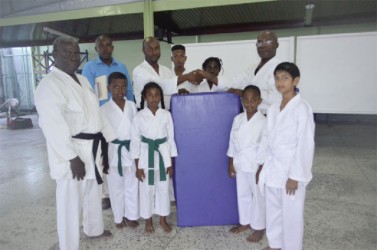 to competition during a simple ceremony at the Association's main centre at Banks DIH Sports Club at Thirst Park.
Sensei Winston Dunbar said that the donation was timely as "take down" is now being introduced in local competition and karatekas must now learn to break falls so the mats are crucial to their training.
He said the methods of throws and "take down" are new to the young members of the Association so they would need the protection of the mats.
"We need at least eight pairs of mats but this is a good start for us, we are hosting a fund raising Bar-B-Que on November 2 at Thirst Park to help raise fund to buy more mats and we have also received a few pledges," Sensei Dunbar  added.
The Guyana Wado-Ryu Karate Association has affiliated clubs at Mae's School in Subryanville, Eccles Primary School and at Farm, East Bank Essequibo.
Around the Web