A subcommittee within the National Sports Commission is currently working on a policy on how to reward athletes for their outstanding achievements.
So said Minister of Sport Dr. Frank Anthony during an interview with Stabroek Sport.
"We have a sub-committee in the National Sports Commission that we have asked to look at how we reward athletes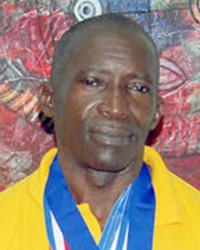 and one of the things they will be considering is not only what kind of recognition that we give to them but maybe if we should offer incentives and what those incentives should be."
Anthony added that: "In a lot of cases we have been looking at athletes and rewarding them in an ad hoc basis and I think we need to stop that and put a system in place."
The minister went on to state that the policy will be published so athletes will know what to look forward to when they excel.
"We will publish the recommendations that will be made so that everybody know what are the recommendations and what to expect, because you see in different sporting disciplines it is sometimes hard to compare the results that people would get so how do you compare an athlete in say the strength sports with somebody in athletics or chess so they have to work out the parameters."
The minister's comments came against the backdrop of recent comments made by last year's World Masters 74 kg powerlifting champion Winston Stoby who in another section of the media, stated that there should be a leveled playing field with regards to rewards for all athletes.
Stoby had accused Minister Anthony of reneging on an agreement to pay his airfare to compete at the Masters Championships last month.
When quizzed on whether he did, Anthony replied "Mr. Stoby never came in and sort out the issue with us. I don't even know when Stoby traveled to compete in his competition."
Around the Web