Construction of the 25-metre warm up pool at the National Aquatic Centre has started and is scheduled to conclude in March next year.
During a press briefing at the Liliendaal site yesterday, Minister of Sport, Dr. Frank Anthony told media operatives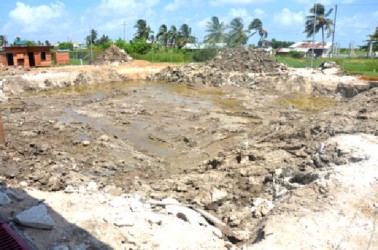 that work commenced on the pool last month and upon its completion it will bring the National Aquatic Centre to international standards.
"Once we have these two facilities in place it will provide not only for training but when we have international competitions we will have a facility to do the warm ups so that they can swim more competitively in the 50 metre pool" Anthony declared.
When everything is completed this facility will be of international specifications that are a promise we have made and that is the promise we are now fulfilling" Anthony added.
According to Anthony, the pool is also a pre fab pool just like the 50 metre one and the equipment will be sourced from Myrtha Pools from Germany.
"We have gone back to Mrytha Pools who were recommended to us by FINA (Federation Internationale de Natation), the governing body for swimming, we worked with them before and we were satisfied so we have contracted them and they have already delivered the pre fab pool".
Anthony disclosed that "The Myrtha Pool components will cost us $288,000, (G$57,600,000) while the civil works from the local contractor to do the base and the decking, that will cost approximately G$37.5 million dollars".
The aquatic centre was built for $581M which had seen a change in contractor and a wasting of money.
Dr. Anthony also urged Deoraj Dalchand, the Managing Director of Innovative Engineering Consultancy Services to work feverishly to complete their work in March.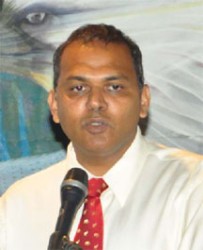 "We are now waiting on the local contractor to finish the base of this warm up pool, once they have completed their work in March we will invite the contractors from Myrtha to do their part, we need to work quickly and in a timely manner" the sport minister reiterated.
On his company's behalf, Dalchand intimated that works on the project have been progressing well, despite that fact that they had to do work to ensure that the existing 50m pool and the building would not be affected.
He said the team would be working assiduously to ensure the deadline is met.
Meanwhile, Director of Sport, Neil Kumar said alternative arrangements have been made for swimmers who utilize other pools for training on a daily basis. They have since been accommodated at the Colgrain and Castellani pools.
Kumar also implored on the contractors to honour the deadline.
Upon completion of the 25-metre warm up pool, the Aquatic Centre will cost in excess of $675M.
Around the Web