After a one year absence the Banks DIH Rugby Sevens Championships returns to the National Park rugby field today.
The championship comes at an opportune time, giving the national male and female sevens teams a chance to further hone their skills individually playing for their respective clubs and stake their claim for inclusion in the final squads.
In the men's senior segment a total of eight teams are expected to take part (comprising Pepsi Hornets, GDF and Yamaha Caribs "A" and "B" Teams, UG Wolves and A National Representative U/19 Team. On the distaff side, the females will be grouped into 'A' and "B' Squads along with the guest participation of a representative Guyana Police Force Club U/17 Team which was given permission to make their debut with matches against the ladies which will serve as a litmus test of their match readiness.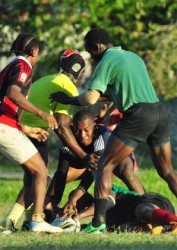 A Bar B Q and take away fundraiser will also be held today at the venue.
Senior Officials of the Ministry of Sport and Banks DIH Limited will be present to address the teams and present the winners with their prizes. Events are scheduled to kick off with the traditional March Past at 11:00hrs.
Around the Web