The Guyana Defence Force (GDF) ran away with yesterday's Banks Sevens Club Championship beating the University of Guyana (UG) ruggers 19 to 12 in the final at the National Park.
Tries by national players Avery Corbin (two) and Breon Walks (one) coupled with two conversions by Captain Cloyd Powell earned GDF its first Banks Sevens championship.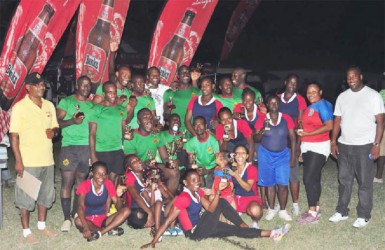 A try by UG's star winger, Ryan Dey as well as a try and conversion by national under-19 captain, Godfrey Broomes was not enough to brush aside the soldiers.
After being locked at 12 apiece at the break, the elusive pint sized Walks stamped his authority and gave GDF the go ahead try after he evaded several burly UG players from as far as the halfway line.
Powell then buried the conversion to pad the score.
"The victory for our team means a lot "said Powell in a post-match interview with media operatives.
"This is the first time we won this title and it was very challenging because all these teams especially UG came here today hungry for the championship, I must take my hat off to UG, the players have improve tremendously under coach Larry Adonis".
The military men marched into the final thanks to a 19-14 comeback sudden death win over the defending champions Hornets.
Their opponents UG got through with a 24-nil victory over the Yamaha Caribs in the last four thanks to scores from Lance Adonis, Captain Rondel McArthur and Dey.
Meanwhile, on the distaff side, the Hornets women's team stung their Caribs counterparts and earned a shut out seven- nil win to lift the women's title.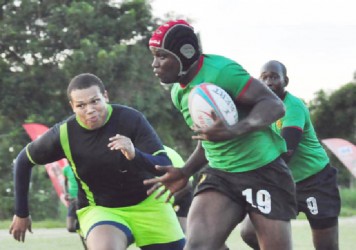 After multi-talented athlete Alisha Fortune broke away from mid field and recorded a try in the second half, Collette Hope nailed the conversion to balloon Hornets' lead. The championship came at an opportune time as it gave the national male and female sevens teams a chance to further hone their skills individually playing for their respective clubs and stake their claim for inclusion in the final squads.
In the men's senior segment a total of eight teams participated (comprising Pepsi Hornets, GDF and Yamaha Caribs "A" and "B" Teams, UG Wolves and A National Representative U/19 Team.
The females were grouped into 'A' and "B' Squads along with the guest participation of a representative Guyana Police Force Club U/17 Team.
A Bar B Q fundraiser was also held at the venue with was thronged by hundreds of vocal fans.
Around the Web