After two weeks of high intensity training, two of Guyana's top amateur boxers, Imran Khan and Dennis Thomas will begin their quests for medals at the World Amateur Boxing Championships in Almaty, Kazakhstan on Thursday.
Alongside the Olympic boxing programme, the championship is the highest level of competition for the sport.
According to president of the Guyana Boxing Association (GBA), Steve Ninvalle: "Both of our boxers in Kazakhstan go into action on Thursday."
Khan (bantamweight) will face Filipino, Nanid Fernandez while Thomas (middleweight) will take on Arpem Chebotarev of Russia.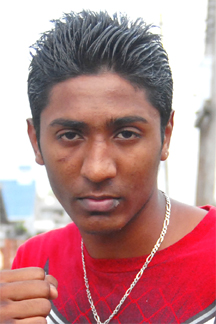 The GBA head told Stabroek Sport yesterday that the competition will be "extremely tough" but he expects both pugilists to do the nation proud.
Ninvalle also disclosed that Technical Director of the GBA, Terrence Poole, joined Khan and Thomas to supervise them last week and thanked the Ministry of Sport for covering Poole's expenses. While in Kazakhstan, Poole will also sit the Level Three exams.
When quizzed on whether Guyana could have afforded to accommodate all six boxers that were encamped locally for the championships, Ninvalle replied that the price tag for one boxer ($500,000) was "staggering" but he was thankful for 'The Land of Many Waters' having more than one representative.
The World Amateur Boxing Championships will be the last event of its kind as amateur boxing takes a jump towards professionalism with the newly formed APB, the professional wing of AIBA.
The high intensity training stint was dubbed 'Road to Almaty' where the championships are being staged.
In excess of 50 nations will have representatives at the championships.
Khan, Thomas and Poole are scheduled to return on October 27.
Around the Web