Bangladesh Captain Mehedi Hasan Miraj's five-wicket haul along with Nazmul Shanto's half-century sank an out-of-sorts West Indies UI19 team  who went under to the visitors by four wickets yesterday who  moved to within one game of winning the seven match One Day International series.
Playing at the Everest Sports Club ground, in front of a decent crowd of cricket enthusiasts, the tourists continued their winning ways by securing their third consecutive win with three games remaining.
Skipper Miraj snared an impressive 5 for 17 from 10 overs and was supported heavily by fellow spinner Zubair Likhon who grabbed 3 for 25 while medium pacer Prodhan Rifat collected 2 for 19.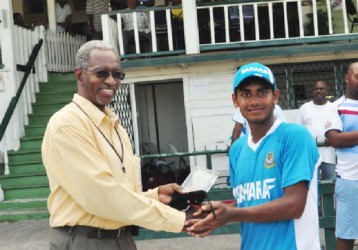 Chasing 144 to win from their allotted 50 overs the Asian side progressed to 144 for 6 in 39 overs courtesy of Shanto who carved five boundaries in his top knock of 60.
He received support from Miraj who returned with the bat to score a solid 27, the two producing a fifth wicket partnership of 69 runs.
Earlier, West Indies won the toss and batted first, slumping to a disappointing 143 in 46.3 overs. Left-arm spinner Gudakesh Motie-Kanhai and Marquilo Mindley, top scored with 38 apiece, hammering eight boundaries and a six in their 8th wicket partnership of 65. Trinidadian Jeremy Solozano also chipped in with 21.
Openers Leroy Lugg (0) and Shimron Hetemyer (8) were both removed by the medium-pacer Rifat, soon followed by Fabian Allen (8) who was removed by Miraj, leaving the Windies reeling at 38 for 3.
Solozano managed to hold his end for a while before Miraj struck again in the 24th over removing the lanky Trinidadian batsman. The big-hitting Trinidad & Tobago wicket-keeper, Nicholas Pooran came to the crease, but was then dismissed for a golden duck.
The woes continued when Tristan Coleman was bowled for four followed by the wicket of the skipper Raamal Lewis (1), who became the Bangladeshi skipper's fifth victim. Likhon then removed the trio of Motie-Kanhai, Mindley and Ray Jordan (2), leaving Brian Charles stranded on 4.
Chasing another low total, Bangladesh were dealt two blows in the first over when opener Sadman Islam Anik (2) who missed out on a century in the previous game went cheaply, caught short of his ground by Lugg and Munim Jummon (1), trapped LBW by Jordan.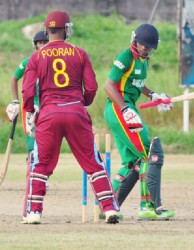 After the lunch interval, Jordan struck again this time removing the in-form wicket-keeper/batsman Jashim Uddin for 16. After looking set, Mossadek Hoosain Saikat (22) was caught by Pooran off the bowling of Motie-Kanhai.
After the dismissals of Miraj and Shanto, the pair of Abu Sarker Saeed (1) and Javed Rahuttul (3), saw their team home with a little over 10 overs to spare. Jordan and Lewis grabbed identical figures of 2 for 24, while Motie claimed 1 for 31.
Match five is a day/night game and returns to Providence at the National Stadium tomorrow with the first ball set to be delivered at 13:30pm.
West Indies innings
L Lugg lbw b Rifat                                          00
S Heteymer c Linkon b Rifat                    08
F Allen lbw b Miraj                                       08
J Solozano c Shanto b Miraj                     21
N Pooran b Miraj                                          00
T Coleman b Miraj                                       04
R Lewis b Miraj                                              01
M Mindley c Nehad b Likhon                  38
G Motie-Kanhai lbw b Likhon                 38
R Jordan lbw b Likhon                                02
B Charles not out                                          04
Extras: (w14, lb5)                                       19
Total: (all out; 46.3 overs)                     143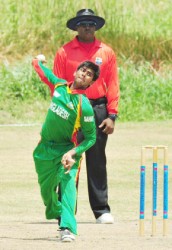 Fall of wickets: 1-13, 2-16, 3-38, 4-38, 5-48, 5-50, 7-51, 8-115, 9-129, 10-143
Bowling: Rifat 6-1-19-2 (2w), Saeed 5-1-13-0 (2w), Miraj 10-2-17-5, Saikat 10-2-13-0, Rahuttul 6-0-37-0 (4w), Likhon 5.3-0-25-3 (3w), Nehad 4-0-14-0
Bangladesh innings
S Anik run out (Lugg/Pooran)                                  02
M Jummon lbw b Jordan                                              01
J Uddin c Lewis b Jordan                                              16
M Saikat c wkp Pooran b Motie-Kanhai                 22
N Shanto b Lewis                                                              60
M Miraj c Charles b Lewis                                            27
J Rahuttul not out                                                            03
Abu Saeed Sarker not out                                             01
Extras: (w7, b2, nb2, b1)                                               12
Total: (for six wickets; 39.4 overs)                        144
Fall of wickets: 1-3, 2-4, 3-29, 4-71, 5-140, 6-140
Bowling: Mindley 6-0-21-0, Jordan 6.4 -0-24-2 (1nb, 5w), Motie 8-1-31-1 (1w), Charles 8-0-26-0, Lewis 8-1-24-2, Allen 3-0-14-0.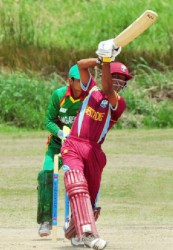 Around the Web