PORT-OF-SPAIN, Trinidad, CMC– Barbadian Dwayne Smith demonstrated his ability as one of the world's leading allrounders by winning the Caribbean Singlewicket Tournament here over the weekend.
Smith, who led Mumbai Indians to the Champions League T20 title recently, defeated Guyana's Chris Barnwell by 35 runs in the final at the Frank Worrell Ground, UWI.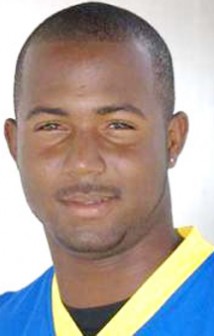 He blasted four 6s and four 4s in a score of 46 while Barnwell could only muster 11 runs from his two overs against Smith.
Smith qualified for the final when he defeated Trinidad and Tobago's Navin Stewart 16-11 in the first semifinal.
Barnwell overhauled 2009 champion Lendl Simmons in the second semifinal 35-32.
In the preliminary round, Smith played unbeaten, getting past Jamaican Takeem Lowe 47-18 and Marlon Richards 22-19.
Smith was the tournament's leading scorer and the man with the most 6s, while Stewart had the best bowling figures.
The tournament format entitled the players to bowl two overs at each other.
Around the Web