Defending champion Carlton Simon will be going all out to defend his International 100 squares title when the annual national draughts championships gets underway this Saturday from 10am at the National Gymnasium on Mandela Avenue.
He will, however be challenged by a number of players all of whom have set their sights on winning the trophy donated by P&P Insurance Brokers which is at stake.
According to a press release, from the Guyana Draughts Association (GDA), the categories to be contested are the A and B divisions and the International 100 squares.
In the A division, Jairam, the defending champion,  is set to receive stiff challenges from Simon, Khemraj Pooranmall, and Wilfred Robinson while  the B division is open as the defending champion Jairam has moved up to the A category.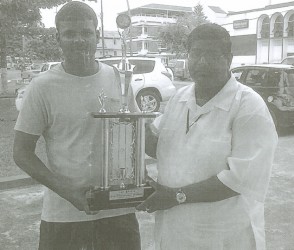 In the absence of Jairam, veteran players Mark Braithwaite, Haroon Bacchus and Tyrone David are among the favourites to win the category.
The top five players from the B category will qualify to compete in the A division, stated the release.
Other sponsors for the two-day championships are Berbice Bridge Incorporated, Attorney-at-Law gentle Elias, Courts Incorporated, Brans Security Services and the Ministry of Culture, Youth and Sports.
Around the Web