A welcome half-century from Tagenarine Chanderpaul, supported by a fine bowling display from Man-of-the-match Preston McSween led the West Indies U19 team to a comprehensive 64-run thumping of Bangladesh in the fifth of seven One Day Internationals played at the Guyana National Stadium, Providence yesterday.
The tourists, who were leading the series 3-1 before their loss yesterday, was looking to wrap up the series with their fourth straight win, but the relentless Windies managed to pull out all the stops to keep the series alive.
They will, however need to win the remaining two games to take the series 4-3.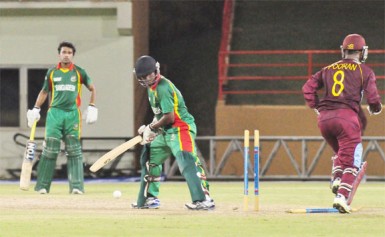 The left-handed Chanderpaul brought up his first half-century of the tournament, a sedate 51 off 94 balls an innings which featured six boundaries and a six. It was also the second 50-plus score by a West Indian player in the tournament, while McSween grabbed 4 for 20.
Other contributions came from Shimron Hetemyer (29), Tristan Coleman and Nicholas Pooran, who accounted for 23 runs apiece, after the Caribbean team won the toss and opted to take first strike before defending their low score of 177 all out from 46.3 overs.
The Bangladesh spinners were once again destructive and were led by Zubair Likhon who had figures of 7.3 overs 4 for 19.
Prodhan Rifat picked up 2 for 27, Mossadek Saikat 2 for 19 from his 10 while a wicket apiece went to Uzzman Nehad and Javed Rahuttul.
In their chase of the modest WI total, Bangladesh were never in the fight slumping to 110 all out in 38.3 overs despite a sticky 49 from Sadman Anik. Ray Jordan 2 for 30 and a wicket each for Gudakesh Motie-Kanhai, Tarrick Gabriel and skipper Raamal Lewis, saw the WI clinching the must win game.
Munim Jummon (7) and Jashim Uddin (0) were removed by Jordan and McSween respectively while the dangerous Saikat (2) and Nazmul Hasan Shanto (0) fell soon afterwards to leave  the tourists reeling at 35 for 4 inside 12 overs.
The Bangladeshi skipper Miraj (16) was trapped lbw in the 18th over, as the tourists slipped to 55 for 5. After some resistance and a decent partnership with Anik, Rahuttul (10) was bowled by Motie-Kanhai.
The lone soldier Anik fell short his half-century by a run, expertly stumped by Pooran and the last wicket of Likhon was removed for a duck.
Earlier, medium-pacer Rifat made the early inroads by removing Leroy Lugg (0) and Hetemyer. Coleman was unfortunately dismissed after hitting his wicket whilst facing a delivery from spinner Rahuttul.
Chanderpaul, after his usual patient start, stepped on the gas in the middle passage of the innings bringing up the team's 100-run mark in the 27 over but Gabriel (6) was soon bowled by Nehad leaving the score 103 for 4.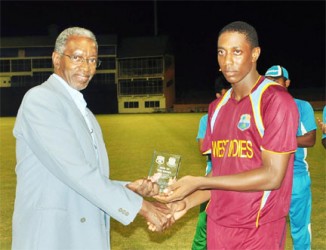 After looking more comfortable as the overs went by, the young `Tiger' eventually brought up his sedate 50 from 88 deliveries. However  following the drinks break which came in the 35th over, the WI  suffered a double blow when the set pair of Chanderpaul and Pooran were removed in the space of a few deliveries.
Shortly after the double strike, Motie-Kanhai was bowled for 2 leaving the score 148 for 7 in the 40th over. He was then accompanied by Lewis (6) and McSween (0), who were both mopped up Likhon.
Jordan (5) was the last man to go leaving Fabian Allen stranded on 15.
Match six is set for the iconic Albion Community Center Ground on Saturday and admission is free.
West Indies innings
L Lugg c Jashim b Rifat                                 00
T Chanderpaul c Anik b Saikat                   51
S Hetmyre c Saikat b Rifat                          29
T Coleman hit wicket b Rahuttul             23
T Gabriel b Nehad                                         06
N Pooran c Rahuttul b Likhon                 23
F Allen not out                                                15
G Motie-Kanhai b Saikat                           02
R Lewis c Rahuttul b Likhon                    06
Preston McSween lbw b Likhon             00
R Jordan b  Likhon                                       05
Extras: (10w, 3lb, 4b)                                  17
Total: (all out; 46.2 overs)                       177
Fall of wickets: 1-0, 2-36, 3-79, 4-103, 5-145, 6-145, 7-148, 8-157, 9-157, 10-
Bowling: Rifat 7-0-27-2 (2w), Saeed 5-0-28-0 (2w), Miraj 8-2-29-0, Saikat 10-2-19-2, Rahuttul 3-0-19-1 (1w), Likhon 7.3-2-20-4 (1w), Anik 0.5-0-3-0 (1w), Nehad 5-1-25-1 (2w)
 
Bangladesh innings
S Anik st wkp Pooran off McSween              49
M Jummon c Pooran b Jordan                        07
J Uddin lbw b McSween                                     00
M Saikat c Pooran b Jordan                             02
N Shanto c Coleman b McSween                    00
M Miraj lbw b Lewis                                              16
Javed Rahuttul b Motie                                       10
S Saeed lbw b Gabriel                                           06
P Rifat run out (Allen/Jordan)                         05
Z Nehad not out                                                      01
Z Likhon c Lewis b McSween                            00
Extras: (5w, 8lb, 1b)                                             13
Total: (all out; 38.3 overs)                               110
Fall of wickets: 1-12, 2-12, 3-29, 4-35, 5-55, 6-78, 7-89, 8-102, 9-109, 10-110
Bowling: McSween 8.3-2-20-4 (4w), Jordan 9-1-30-2, Motie 10-2-16-1, Lewis 8-2-23-1, Gabriel 3-0-12-1.
Around the Web