The Guyana Floodlights Softball Cricket Association yesterday launched its third annual Guyana Softball Cup International Tournament with a winner's purse of $800,000 and other prizes up for grabs.
Local teams, as well as teams from the US and Canada are again participating in this event, executives said at the launching ceremony of the tournament, held at the Georgetown Cricket Club. Both executives and sponsors recalled previous success and hoped for a similar outcome this year.
Secretary of the tournament body Lalta Gainda said the tournament is highly rated and respected both here and overseas. He also revealed that the Association does a lot of charitable work that is sustained by contributions from several businesses.  Forty-two matches will be organized between the teams for this year's tourney: 36 preliminary games at six venues: YMCA Ground, Sport Ministry ground, Malteenoes, Demerara Cricket Club, Ministry of Education and the police ground, Eve Leary, while the finals will be played at the Bourda cricket ground.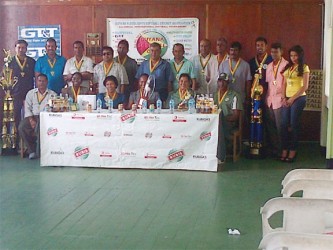 The tournament will be played in two categories, the Guyana Softball Open Cup 20/20 and the 20/20 Masters Cup for men ages 45 and over. A total of 24 teams, split into 12 teams per category, will participate in the tournament. The Masters defending champions Savage and 20/20 open champs, the New York Cricket League All-Stars have confirmed their participation. Local top softball teams Memorex. Wolf Warriors, Trophy Stall, Speed Boat XI and Regal have also confirmed that they will be participating.
Meanwhile, organizers welcomed new sponsors the Guyana Telephone and Telegraph Company and Rubis Service stations to the fold. GT&T Marketing Manager Nicola Duggan said her company has always supported cricket and launched its own 10/10 competition a few years ago. Duggan hoped that the new partnership is similarly successful, noting that the company was proud to be associated with the tournament. The tournament will also benefit from support from Survival Supermarket, Clear Waters and Busta.
A total cash prize of $1,830,000 is being pumped into this endeavour, with the winner of the open category pocketing a trophy and $800,000 and the runners-up receiving a trophy and $200,000. Winners of the over-45 age category will receive a trophy and $600,000, while the runners-up purse will be $150,000 and a trophy. The player of the series in both categories will receive one gold bracelet compliments of Steve's Jewellery. Entrance to the preliminary matches set for November 8, 9 is free while entrance to the finals at the Bourda ground on November 10 is $500.
Around the Web