By Emmerson Campbell in Paramaribo, Suriname
Guyana's contingent of officials and athletes were greeted with live music and handshakes upon arrival here yesterday in Paramaribo, Suriname for the second leg of the Inter Guiana Games (IGG) after a tiring 12-hour overland journey.
Despite the warm welcome at the Stardust Hotel, the cream of the nation's under-19 runners , basketballers, volleyball players and swimmers invaded these shores focused on upstaging their Surinamese counterparts when the rivalry starts today.
From the courts, to the track, to the pool, several venues will be buzzing with activity when the visiting sportsmen and women tackle the host in the four disciplines. After today's official opening ceremony at the Ismay van Wilgen Sporthal at 16:00hrs, action serves off at the volleyball court at the same venue two hours later.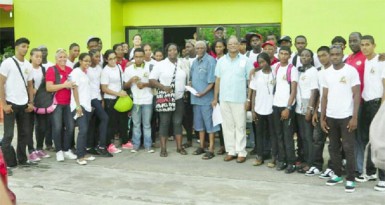 At 18:00hrs, the local female team will take on their Surinamese rivals while the men will  take the court at 20:00hrs.
Tomorrow, Track and Field, Swimming and Basketball will take centre stage.
The athletes will warm up the Andre Kamperveen Stadium from 09:00h
rs simultaneously with the swimmers at the Swimming Pool Oase. Bounce off time for the basketball games (female and male) at the Ismay van Wilgen Sporthal is 18:00hrs. On Sunday, track and field, volleyball and basketball will bring the curtains down on the Games at the Andre Kamperveen Stadium and the Ismay van Wilgen Sporthal respectively.
The closing ceremony will follow at 20:00hrs at the Sporthal.
The visiting contingent comprises 30 officials, 12 swimmers, 26 athletes, 24 volleyball players (12 male, 12 female)  and 20 basketballers (12 males, eight females). Upon arrival, Director of Sport, Neil Kumar told this publication that he is "Happy with the accommodation as well as sporting venues."
Kumar added that he is also satisfied with the efforts of the host and implored the locals "To win especially in basketball, athletics and volleyball since the Surinamese are very strong swimmers."
In the first leg in August, host Guyana won at cycling and table-tennis while their rivals took top honours in chess and football. The aim of the games is to create possibilities for youths to come together and compete in different sport disciplines, focusing on better sport results and better understanding of each other's culture.
Guyana's contingent  is scheduled to return on Monday.
Around the Web