BRIDGETOWN, Barbados, CMC-The West Indies Cricket Board (WICB) has denied reports that Ottis Gibson, West Indies' head coach, is in contention to take over at the Glamorgan cricket club, according to ESPN Cricinfo.
BBC Wales had reported that Gibson is being highly considered for the coaching job at Glamorgan.
Gibson has been in his current role since 2010 and signed a three-year contract extension earlier this year, after interest from Warwickshire.
"Ottis is not aware of this," Cricinfo has quoted a WICB spokesman as saying.
"He signed a new three-year contract this year and is focused on his role as the West Indies head coach."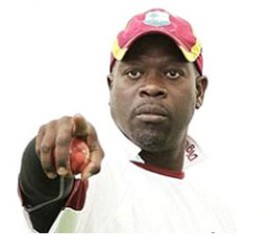 Gibson oversaw West Indies' victorious World Twenty20 campaign last year and the team has won its last six Tests in a row—their best run since 1988.
Under his tenure, West Indies has also moved up the test ranking to number five.
Gibson, 44, spent two seasons at Glamorgan and is a former team-mate of the county's new chief Hugh Morris.
Glamorgan will hold the final round of interviews for the position on Tuesday.
As well as Gibson, former Glamorgan and England bowlers Robert Croft and Steve Watkin have both applied for the position.
Around the Web