KARACHI,  (Reuters) – Banned Pakistan paceman Mohammad Amir is praying the International Cricket Council (ICC) will grant him a reprieve to play domestic cricket as he seeks to resume a career that stalled under ignominious circumstances.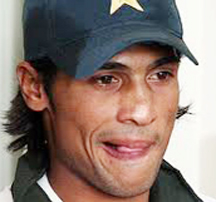 Amir, a bright prospect who made his international debut at 17, served three months in an English jail for corruption and is three years into a five-year ban for his role in a spot-fixing scandal surrounding a test against England at Lord's in 2010.
The Pakistan Cricket Board (PCB), currently run by an interim committee headed by Najam Sethi, will take up Amir's case at an ICC board meeting this weekend and plead for a review of his ban on legal and compassionate grounds.
"What I did in 2010 was terrible and wrong and I have paid the price for it. I have lost my image and hurt my country and family," Amir told Reuters yesterday.
"But everyone gets a second chance in life… I pray the ICC will give me a second chance."
Tafazzul Rizvi, the PCB's legal advisor, said the board was trying to convince the ICC to allow Amir, whose ban ends in 2015, to resume training at the board's facilities in Lahore or even play some club or domestic cricket.
"We have sent a report to the ICC from a Queen's Counsel (QC) we hired in London to look into the case and we are hoping it will help us plead our case strongly at the ICC meetings," Rizvi said.
The PCB had raised Amir's case at the last ICC meeting following which the governing body formed a sub-committee, headed by England and Wales Cricket Board chairman Giles Clarke, to look into the issue.
The sub-committee's findings would also come up for discussion during the ICC meetings in London, Rizvi added.
The left-arm paceman, now 21, added he wanted to rectify the mistake and start playing again.
"I have learnt my lessons and it has been frustrating not being able to play cricket which I love so much," said Amir, who has represented Pakistan in 14 Tests, 15 one-day internationals and 18 Twenty20 Internationals.
"It hurts because the ban is my own doing and my family has also suffered. I just want to rectify the big mistake I made then."
Amir's team mates Salman Butt and Mohammad Asif were also handed jail terms and bans for their role in the scandal.
Around the Web