From Emmerson Campbell in Suriname
Suriname's male volleyball team rallied for a thrilling come-from-behind 3-2 victory over Guyana while their female compatriots grounded the visiting Guyana female team in straight sets when action in the second leg of the Inter Guiana Games (IGG) served off here in Paramaribo, Suriname last night.
In front of a large, animated crowd at the Ismay van Wilgen Sporthal, the host team blocked and spiked its  way back from a 2-1 deficit thanks to clutch plays from David Pinos, Vernon Roos, Sandro Rijkland and Ike Hansen that earned the males a 27-29,19-25,25-15, 25-19, 15-7 victory.
Guyana was led by Captain Creston Rodney while Bandoo Beepaul also chipped in with his all around play. But after his sterling play in the first three sets Rodney began to tire and fade and so did the team who were up 19-17 in the fourth set with a chance to ice the game.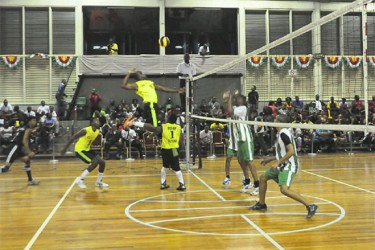 With Guyana enjoying a 2-1 set lead and up in the fourth set a mere six points for victory, they lost their composure and the momentum as Rijkland came up with two big spikes that were followed with two blocks by Roos.
The hosts then grabbed the lead and the fight went out of the visitors as the Surinamese began celebrating after a series of unforced errors by the Guyana players.
In the female match up, Suriname, led by captain, Kame Sigourney Sandrian, dominated proceedings. They jumped out to a 10-4 lead in the first set and never let up and went on to win 25-14, 25-7 and 25-6.
The visiting teams will have a chance the even the score or take the lead on points tomorrow when they lock horns again at the same venue.
Today, Track and Field, Swimming and Basketball will take centre stage.
The athletes will heat up the Andre Kamperveen Stadium from 09:00hrs simultaneously with the swimmers at the Swimming Pool Oase. Bounce off time for the basketball games (female and male) at the Ismay van Wilgen Sporthal is 18:00hrs.
Tomorrow, track and field, volleyball and basketball will bring the curtains down on the Games at the Andre Kamperveen Stadium and the Ismay van Wilgen Sporthal respectively.
The closing ceremony will follow at 20:00hrs at the Sporthal.
Around the Web