Wednesday night's semi-final encounter between Retrieve Raiders and  Amelia's Ward Jets was marred by a dispute over whether former national centre Dwayne `Brown Sugar' Roberts should play.
Retrieve Raiders had included the suspended national centre Dwayne Roberts in their lineup
Stating that the governing body for basketball the Guyana Amateur Basketball Federation had upturned the LABA six-year ban on Roberts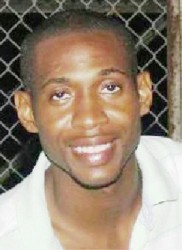 which was why they had included him on their roster.
In January this year, the Linden Amateur Basketball Association (LABA) suspended the former national centre for six years after he failed to appear before its executive committee to answer charges of indiscipline.
Roberts had allegedly threatened an official of LABA and had said that he would "crush' the association.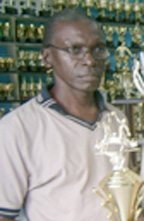 "The LABA Executive Committee has decided that you now be suspended for six years dating back to when you were first given a six months suspension and fined fifteen thousand dollars ($15,000) for throwing the ball at referee Lloyd Ross causing him injury on November 13, 2012 during a sanctioned BOSAI Minerals Group Open Challenge game between your club Retrieve Raiders and the Kashif and Shanghai Kings," LABA wrote of its decision to ban the player.
"This decision to impose a longer ban, takes into consideration that you have been a repeated offender in openly berating association officials in public. The fact that the most recent action by you, was in the presence of all to see, including another association executive, has placed this association with no other choice than to impose a more severe penalty for your emotional outburst, and to maintain the initial fine of fifteen thousand dollars ($15,000).
"The association trusts that you will use the period dating from November 13, 2012 to November 12, 2018 to reflect on your past as a player who has played at the junior and senior national levels," LABA wrote.
Roberts then wrote seeking the intervention of the Guyana Amateur Basketball Federation (GABF) which overturned the decision.
Joe Chapman, LABA secretary, said in a press release yesterday that the association in an emergency meting the night before had taken a decision that their ban of Roberts would remain in force.
LABA is arguing that they were not consulted by GABF in the appeal by Roberts and that the lifting of the ban and fine of $15,000 by the national federation was done without consultation.
They said that the ban of Roberts will remain in effect until such time that the GABF meets with them to look at that appeal and other issues which they have raised with the federation.
As a result Amelia's Ward Jets will meet tonight with defending champions the Kashif and Shanghai Kings to play for the Trophy Stall Regulation Open basketball trophy.
Wednesday night at the Mackenzie Sports Club Hard Court the Kings defeated Bankers trust Falcons 78-62.
Omally Sampson scored the game-high 24 points while Orin Rose supported with 19 which included five three pointers and Steve Neils Jr., chipped in with 14.
The third place game is off but Bankers Trust Falcons will play Half Mile Bulls in a supporting game from 7.30pm with the Kings/Jets match scheduled for 9.30pm.
Around the Web