From Emmerson Campbell
in Suriname
 The gusts whipping through the Andre Kamperveen Stadium here in Suriname yesterday was Guyana's biggest competition as the visitors dominated the host on day one of the Track and Field segment of the Inter Guiana Games (IGG).
After Kevin Abbensettes (men's 100m) and Alita Moore (100m) started the day's proceedings by winning the marque sprint events,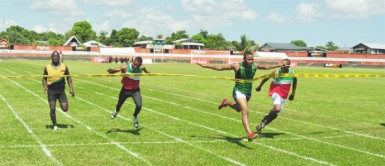 three-time Carifta Games 1500m gold medalist, Jevina Straker and the quarter milers, Jevina Sampson and Jason Yaw continued the gold heist.
High and triple jumper, Parrish Codogan, was also at the top of the podium donning the colours of the Golden Arrowhead after his winning leaps.
Suriname, however, got a consolation win in the men's 1500m after Clifton Betje edged Ornesto Thomas.
Abbensetts, the meet's fastest man, failed to leave the blocks promptly, but powered through the field to win in 11:33 seconds.
Suriname's Risingi Resida (11:36) and Shawn Landus (11:44), who both had superior reaction times to the muscular Abbennsetts were second and third respectively.
Guyana's Rondel Gibbons faded to fourth after a strong start.
The standout performances of the day were by Straker and compatriot Cassie George who took control of the race from the smoke of the pistol.
Straker and George were never threatened by Suriname's duo Esmeralda Amania and Sefanja Goncalves and their lead ballooned with every powerful stride.
At the end of the race which Straker took in four minutes and 55 seconds, the gifted athlete had a 250m gap on Amania who trudged in third.
Sampson was in her usual business like mood. The talented pint-sized sprinter blasted out of the blocks and enjoyed a five-metre lead at the initial turn. After cruising into the head wind, Sampson changed gears in the final 200m and stormed to an emphatic victory by almost 20 metres.
Guyana also enjoyed a one-two finish in the 400m as Mearisha ran in second in that event.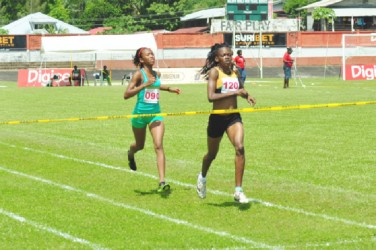 Yaw, fresh off winning a pair of bronze medals (200m and 400m) at the South American Youth Games in Peru last month, toyed with the competition until the final 150m when he surged ahead to win in 50:47 seconds.
The vertically blessed Yaw, who seemed to dwarf his rivals, won in excess of 30 metres from third place finisher, Kevin Akontoe of Suriname.
Guyana's Quacy Simpson took the silver in 52:96 seconds.
Yaw and Sampson also played major roles in propelling Guyana's 4x100m relay teams to the gold medals.
Today, the athletes will return to the venue to compete in the 800m, 200m, 3000m, 5000m, shot put, discuss, long jump and the 4x400m relays.
Full results
Men's 100m: Kevin Abbensetts (Guyana, 11:33), Risingi Resida (Suriname,11:36), Shawn Landus (Suriname, 11:44), Rondel Gibbons (Guyana, 11:56)
Women's 100m: Alita Moore (Guyana,12:29),Onika Eastman (Guyana 12:70), Sabrina Menso (Suriname, 13:16), Whitney Marica (Suriname, 13:40)
Women's 1500m: Jevina Straker (Guyana, 4:55:02), Cassey George (Guyana, 4:55:50), Esmeralda Amania (Suriname, 5:47:57), Sefanja Goncalves (Suriname, 6:23:07)
Men's 1500m:Clifton Betje (Suriname, 4:26:34), Ornesto Thomas (Guyana, 4:27:24), Roche Bonjasking (Suriname, 4:40:13), Kevin Nicholas (Guyana, 4:42:50)
Women's 400m: Jevina Sampson (Guyana, 58:95), Mearisha Carter (Guyana, 1:03:18), Genilva Diko (Suriname, 1:04:66), Davinia Asantiba (Suriname, 1:16:04)
Men's 400m: Jason Yaw (Guyana, 50:47), Quacy Simpson (Guyana, 52:96), Kevin Akontoe (Suriname, 54:53), Winston Collins (Suriname, 1:00:37)
Men's Triple Jump: Parrish Codogan (Guyana, 14m:24cm), Mitchell Collins (Suriname, 13m:80cm), Yoel Benjamin (Guyana, 13m:70cm), Dornell Alanterie (13m:68cm)
Women's Triple Jump: Fidella Boorie (Suriname, 11m:54cm) Deborah Galong (Suriname, 11m:50cm), Natricia Hooper (Guyana,10m:55cm), Kelanie Griffith (Guyana, 10m:19cm)
Men's Javelin: Jason Davids (Suriname, 52m:70cm), Domon Williams (Guyana, 49m:07cm), Endrico Djoe (Suriname, 36m:32cm), Quacy Simpson (Guyana, 34m:82cm)
Women's Javelin: Sabia Steenberg (Suriname, 29m:58cm), Vanessa Plak (26m:90cm), Tiffany Pilgrim (Guyana, 21m:46cm) Niossi Alsopp (Guyana, 19m:24cm)
Around the Web