From Emmerson Campbell
in Suriname
Guyana's basketball teams suffered mixed fortunes Saturday night as the  Inter Guiana Games (IGG) continued at the Ismay van Wilgen Sporthal here in Paramaribo, Suriname.
A game-high 17 points and six assists from Guyana's female captain Tamara Hunter led the visitors to a 47-29 blowout win but the visiting males went down 49-79 to the hosts who were supported by a large, animated crowd.
Sharpshooter, Safero Fraser scored a game-high 24 points, dished out three assists and grabbed four rebounds in a dazzling all-round display for Suriname.
Power forward Xavier Elburg added 14 points, seven rebounds and three blocks for Suriname while point-guard, Christopher Stevillen had 11 points and two steals mostly in garbage time.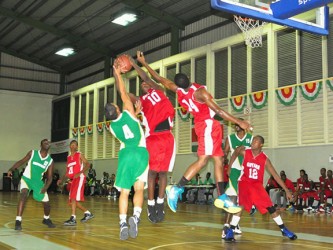 Fraser finished with eight of 12 from the field including three of four from beyond the arc.
Emmanuel Archibald led Guyana with 12 points, Captain, Leonard Primo scored 11 and Dennis Niles and Neil Wills added seven points apiece.
Suriname jumped out to 18-8 lead in the first quarter and bumped their lead to 44-17 thanks to a 26-5 run that encompassed defence and accurate shooting.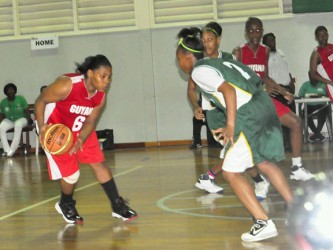 The visitors trailed by 25 (55-30) heading into the fourth quarter but with some stingy defence and free throw shooting sliced the lead to 16. However, following a time-out by Suriname, the hosts regained their footing thanks in part to Stevillen who sparked a rally with a two thefts and fast break lay ups.
Stevillen's play along with a slew of turnovers by Guyana enabled the hosts to regain the momentum, much to the appreciation of the crowd.
In the female game, point-guard Hunter was supported by towering centre, Ginelle Ifill who scored five points and corralled 20 boards as Guyana dominated on the offensive glass and second chance points. Kristy Roberts also chipped in with 10 points off the bench for the visitors.
Centre, Kimberly Aliembolo (seven), Agida Errstelling (seven) and Cyaveah Kensmil (six) were the high point scorers for the Dutch women.
"It was a well earned team win," said Coach, Ann Gordon in a post game interview with Stabroek Sport. "To God we give the thanks and praise, we only had nine sessions together but the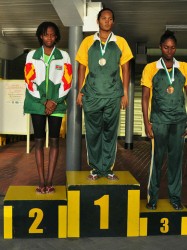 girls are gelling and playing well, I hope they continue to improve with the exposure they are getting."
The four teams were to play again  last night  at the same venue.
Meanwhile, at the Swimming Pool Oase  Saturday Suriname's  dominance over Guyana continued as the hosts took 11 gold medals in the 12 events up to press time.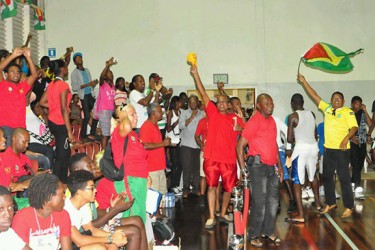 National swimmer, Britany van Lange's win in the girls' 19 years and under 50m freestyle prevented the hosts from earning a shut out.
The curtain came down on the Games  yesterday  with track and field and basketball at the Andre Kamperveen Stadium and the Ismay van Wilgen Sporthal respectively.
The closing ceremony wax set for 20:00hrs at the Sporthal.
The aim of the under-19 games is to create possibilities for youths to come together and compete in different sport disciplines, focusing on better sport results and better understanding of each other's culture.
Around the Web