Colts Basketball Club defeated Suriname Yellowbirds 48-39 when action in the Georgetown Amateur Basketball Association (GABA) Goodwill Tournament concluded on Friday at the Cliff Anderson Sports Hall on Homestretch Avenue.
The Kwakwani connection of Shelroy Thomas, Dave Causway and Sheldon Thomas led the local side with 16, 10 and nine points respectively. Amilcar Cooman scored 15 points for the Dutch side while captain Jahmal Henar netted 14 points.
In a game reduced to two 20 minutes halves of running time, Colts would narrowly take the opening salvo 24-22 as they withstood a combined 18-point output from Cooman and Henar compliments of a physical inside game.
Led by their diminutive aforesaid trio who combined to score 15 points in the period, Colts would capitalize on the Dutch side's lack of a genuine third scorer and bench.
Shelroy Thomas, who led the charge with six points continuously penetrated the paint to score layups while Causway, who netted five points, opened his account with a three-point dagger.
Fatigue and frustration would highlight the Dutch side's second period as they were outscored 24-17. The lack of third scorer continued to be their Achilles heel as Cooman and Henar were restricted to a combined 11 points in the period.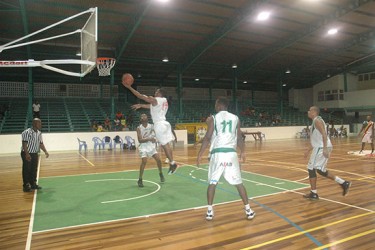 Building on his opening efforts, Shelroy would take over the final stanza, netting a period leading 10 points compliments of inside drives and mid range jumpers as the trio further combined to register a healthy 19 points to seal the win.
In the earlier female fixture, Yellowbirds, led by a game-high 16 points from Tricia Struiken defeated Pepsi Sonics 39-24. Chayenne Naarden contributed eight points in the win.
Around the Web