From Emmerson Campbell  in Suriname
Hosts Suriname sent Guyana home with a treasure chest full of silver when the second and final leg of this year's Inter Guiana Games (IGG) concluded last night at the Ismay van Wilden Sporthal.
The second leg, which was contested over the course of three days, included volleyball, swimming, basketball and track and field.
Suriname dominated swimming, the female segment of volleyball, the male segment of basketball and inexplicably, the overall top honours in track and field.
Guyana's only overall gold for a discipline game in the female segment of basketball.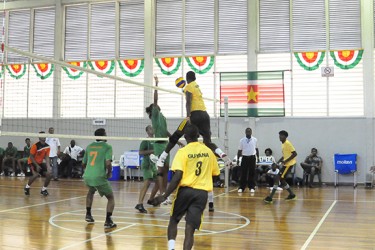 In the first leg in August, hosts Guyana won at cycling and table-tennis while their rivals took top honours in chess and football.
The aim of the under-19 games is to create possibilities for youths to come together and compete in different sport disciplines, focusing on better sport results and better understanding of each other's culture.
It was deja vu all over again yesterday on the final day of the Inter Guiana Games (IGG) here in Suriname as Guyana dominated on the track while suffering mixed fortunes on the basketball and volleyball courts.
 Track and Field 
The visiting athletes picked up where they left off on Saturday at the Andre Kamperveen Stadium prevailing over everything else but the rainfall and the windy conditions.
After winning the marque 100m on Saturday, sprinters, Kevin Abbensetts and Alita Moore completed doubles with victories in the 200m.
Compatriots, Jason Yaw and Jevina Sampson who won gold medals in the 400m on Saturday, placed second to Abbensettes and Moore respectively.
Guyana also enjoyed one-two finishes in the men's 800m (Ornesto Thomas and Quacy Blair), women's 800m (Jevina Straker and Cassey George) and women's 3000m (Cassie Kirton and Claudrice McKoy).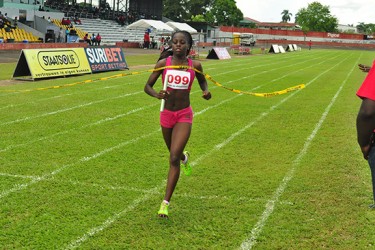 Straker and George also finished in the top two positions in the 1500m on Saturday.
The locals also took the top honours in the both the male and female 4x 400m events in excess of 100 metres.
 Full Results 
Women's 800m: Jevina Straker (Guyana, 2:18), Cassey George (Guyana, 2:22), Genelva Diko (Suriname, 2:36), Davinia Asantiba (Suriname, 2:54)
Men's 800m: Ornesto Thomas (Guyana, 2:01), Quacy Blair (Guyana, 2:02), Niven Loswijk (Suriname, 2:11), Winston Collins (Suriname, 2:13)
Women's 200m: Alita Moore (Guyana, 25:30) Jevina Sampson (Guyana, 25:74), Affriella Pinas (Suriname, 27:69), Whitney Marica (Suriname, 27:72)
Men's 200m: Kevin Abbensettes,(Guyana, 22:14), Jason Yaw (Guyana, 22:27), Resingi Resida (22:59), Shawn Landus (Suriname, 23:06)
Women's 3000m: Cassie Kirton (Guyana, 12:05), Claudrice McKoy (Guyana, 12:16), Esmeralda Amania (Suriname, 12:25), Hana Sana (Suriname, 13:37)
Men's 5000m: Clifton Betje (Suriname, 18:14), Roche Bonjasking (Suriname, 19:13), Kevin Nicholas (Guyana, 19:54)
Men's long jump: Mitchell Collins (Suriname, 6:46), Samuel Gray (Guyana, 6:23), Domon Williams (Guyana, 6:11), Tumane Doeke (Suriname, 5:06)
Women's long jump: Esmeralda Lynch (Suriname, 5:15), Kelanie Griffith (Guyana, 4:90), Mearisha Carter (Guyana, 4:89), Sabrina Menso (Suriname, 4:38)
Men's discus: Janique Pallees (Suriname, 36:40), Yoel Benjamin (Guyana, 32:24), Laured Stewart (Guyana, 32:00), Endrico Djoe (Suriname, 20:90)
Women's discus: Vanessa Plak (Suriname, 34:00), Charissa Doeglas (Suriname, 33:04), Kristy Roberts (Guyana, 23:20), Niossi Alsopp (Guyana, 20:52)
Men's shot put: Janique Pallees (Suriname, 15:02), Jason Davids (Suriname, 12:36), Laured Stewart (Guyana, 10:19), Rondell Gibbons (Guyana, 8:90)
Women's shot put: Sabea Steenberg (Suriname, 10:60), Charissa Doeglas (Suriname, 10:49), Tiffany Pilgrim (Guyana, 9:54), Kristy Roberts (Guyana 9:06)
Volleyball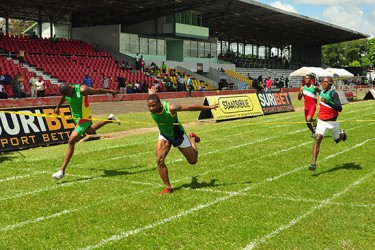 Just like on Friday night at the Ismay van Wilgen Sporthal,the female team went down to the hosts in straight sets (5-25,9-25,11-25), outplayed in every facet of the game.
Captain, Kame Sigourney Sandrian again filled up the stat sheet for Suriname with her all around play and bludgeoning spikes. The Surinamese women won Friday's game: 25-14, 25-7 and 25-6.
The male team, however, avenged Friday's five-set loss in another thrilling five-set game as Captain, Creston Rodney and libero, Bandoo Bepaul came up big with set plays and kills.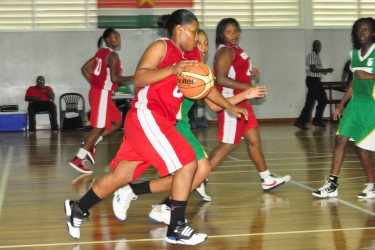 Guyana won yesterday's encounter 19-25,25-22,25-17,17-25,15-11.
However, when the scores of yesterday's and Friday's games were tallied, Suriname was declared the winner by six points (207-201).
Suriname outlasted Guyana in the first game 27-29,19-25,15-25,25-19, 15-7.
Basketball
Guyana's women routed the host 45-23 on the heels of Saturday night's 47-29 blowout win. However the visiting men again could not mirror that achievement despite a game-high 22 points from Leonard Primo.  Guyana lost. The males were out gunned by a sharpshooting Surinamese team on Saturday and even though they put on a more spirited performance last night especially on defence, the visitors could not find the bottom of the net like the host.
Suriname was paced by Xafier Elburg who poured in 16 points and grabbed eight rebounds with three coming from the offensive glass. Shaun Langghut also recorded 16 points with three assist and two steals. Clarence Rosenblad and Safero Fraser also chipped in with 13 points apiece for Suriname.
Primo was supported by Shafeek Thomas (16 points) and Dennis Niles who finished with 10 points.
In the female game Captain, Tamara Hunter again had a game high 17 points to go along with six dimes while centre Ginelle Ifill was beast once more on the boards and in the paint. Ifill finished with 10 points and pulled down 18 boards, seven offensively. Kristy Roberts also supported Guyana with 10 points like Saturday.
Longfur Chenelien (eight), Tuart Janine (five) and Cyarah Kensmil (four) were the top scorers for Suriname.
Guyana's officials and athletes are scheduled to return home this afternoon.
Around the Web