Guyana's four wheelsmen who competed in this year's Caribbean Cycling Championships in Curacao last weekend failed to crack the top 30 but despite their misfortune, manager of the team, Brian Allen was satisfied with their performances.
"Regardless of their spaces I am totally satisfied because of the high level of the competition" Allen told Stabroek Sport yesterday.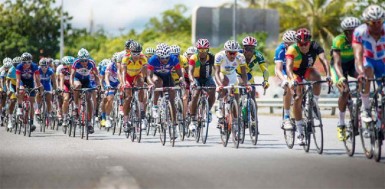 Allen added "They rode their hearts out, I can safely say they competed to the best of their abilities, the results don't reflect that and we are not quite where we want to be but with the exposure they continue to get, they can only improve."
This season's most successful cyclist, Alanzo Greaves, national road race champion, Raynauth Jeffrey, last year's road race winner, Orville Hinds and top veteran Godfrey Pollydore who suffered a puncture represented the Golden Arrowhead at the two-day championships.
The gruelling 128km (80miles) race was won by Guadeloupe's Frederic Theobald in 3 hours,13 minutes and 25 seconds.
In excess of 100 riders from Holland, Suriname, French Guiana, Barbados, Guadeloupe, Belize, Jamaica, Antigua, Puerto Rico, Trinidad and Curacao competed in the championships.
Around the Web