"T20 cricket is an exhibition, while Test cricket is more of an examination," were the terms used to compare the two diverse forms of cricket by former West Indies Captain Clive Lloyd, who along with former England skipper Michael Atherton and local historian Dr Winston McGowan engaged in a discourse last evening about the history of the game and the way forward.
Held at the Moray House Trust located at the corner of Camp and Quamina streets, the interactive discussion featured the former Captains of the game, the historian and a gathering of cricketers, both past and present, young and old, engaged in reflections about cricket of the olden days and its massive overhaul witnessed in contemporary times.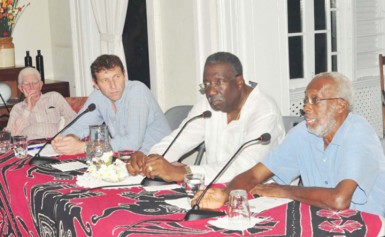 Lloyd, a two-time World Cup winner who captained the Caribbean side from 1974 to 1985, noted that among some of the mutations witnessed in cricket were those of work ethics, discipline, attitude and one's desire to be a good player. The former middle-order batsman duly focused on the comparison of test and limited overs cricket, mainly the T20 format.
He observed that while some players were well-rounded and adapted to all three formats of the game, (Test, ODI and T20), others find themselves stuck within the realm of limited overs cricket, either due to fitness or fiscal reasons, declaring that "the limited overs take away from Test cricket."
Speaking of his time in the 70s and 80s as a leader having to find ways and means of surviving while tasked with the responsibility of bringing players from across several Caribbean territories together to play and perform as one, Lloyd stated that things have changed mainly due to the shorter format, which allows modern day players to earn more money, while training and playing less.
Atherton, who led England in 54 Test matches out of his 115 caps, reinforced that the shorter formats have definitely made it easier for players to earn more without putting in as much work. Examples were given of players such as the Australian fast-bowler Shaun Tait, who is a force to be reckoned with in the limited aspects of the game, but is not physically fit to bowl 15 to 20 overs in a day.
"Super Cat," as Lloyd was fondly nicknamed, stated that due to the high salary caps, players are now able to go on tours and occupy a single room, in contrast to his time where players shared quarters and used it as a way to bond and learn from their fellow West Indians.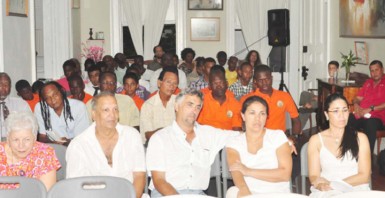 His English counterpart supported the notion of having players go back to a time where they shared rooms, having a fellow teammate to speak with at nights. This Atherton said is a good way to curtail illegal activities in the game such as spot and match-fixing.
Moving away from the topic of finance and the different formats, both skippers and McGowan acknowledged that in order for the West Indies to return to their glory days, the governments of the countries in the region need to recognise the importance of sports.
They regarded Guyana as a spawning ground of players of the calibre such as: Lance Gibbs, Rohan Kanhai, Alvin Kallicharran, Colin Croft, Shivnarine Chanderpaul, Ramnaresh Sarwan and others who made a difference on the side, along with creating a track record showing that when Guyana succeeds, the West Indies do as well.
"Our cricketers must start think about the West Indies, they need to start show more loyalty to their country and once that has been displayed, West Indies cricket can move up the ladder," noted Lloyd. "We have the talent here, but we don't have the players who are disciplined," he bemoaned.
The trio also talked about creating fast-bowling schools to help churn out pace bowlers, a craft that the Windies were famous for in the early days, along with players who focused on themselves and strove to become better players without the help of coaches.
The panellists said that players should not be solely dependent on coaches, but should possess some amount of self-belief, while coaches in return should try not to "over-coach" players.
Lloyd supported targeting cricket in the school system, which he said is also a critical element for the development of the game.
"School cricket is very important, but you don't see a lot of that," Lloyd reflected, "We need that system back."
Around the Web