The two teams representing the New York Softball Cricket League at the upcoming third annual Guyana Softball Cup tournament will not only be coming to win but to entertain as well.
So says Eric Ferrier of the NYSCL.
"The opportunity to visit Guyana to play cricket is truly a nostalgic occasion this sentiment is underscored by the fact that NY Softball Cricket League will once again be sending two teams (New York All-Stars and the Legend over 45 team) to our motherland to participate and compete in the Guyana Softball 111. We therefore wish to thank the Guyana Softball Floodlight Association for affording us this opportunity by inviting us to participate," said Ferrier.
The NYSCL team is the defending champions after they defeated Trophy Stall in last year's Open 20/20 final at the Everest Cricket Club ground last year.
"As defending champions of the premier competition we wish to signal that it is our intention to successfully defend the cup as well as add the over 45 trophy to our collection," said Ferrier.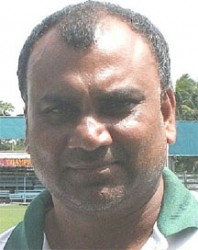 He added:"However, while it is our expressed desire to win both competitions our principal mission is to entertain the cricket loving fans of Guyana, "New York Style".
Ferrier said apart from entertaining the local fans they will also take the opportunity to bond with our "brothers and sisters in the land of our birth."
President of Softball Cricket International (SCI) Miami, Ranji Singh said that his organization would like to honour some old pioneers in softball cricket at this year's tournament.
Vice president of the Guyana Floodlights Cricket Association Ricky Deonarine said that for this year's tournament some 11 foreign teams along with 15 local teams will be in action.
Deonarine said that this year's tournament promises to be the biggest and the best ever in the three year history of the tournament adding that as one of the organizers he was not going to be partisan so he would like to wish all the teams the very best adding that "may the best team win.
"I would really like to commend New York for coming all the way and defeating all the powerful teams in Guyana. I would like to congratulate them for that and wish them the best for this year's tournament."
Deonarine who over the tears has developed a reputation as one of the finest exponents of softball cricket in Guyana as a batsman said he would also like the tournament to be played in the true spirit of friendship, camaraderie and fair play adding that he was looking forward to a wonderful tournament.
The winning team in this year's tournament will receive $600,000 and a trophy while the player of the series will receive a 14 carat gold bracelet valued at $150,000 and a trophy.
The opening ceremony gets underway at 5.30pm on November 7 at the Georgetown Cricket Club ground, Bourda.
Around the Web