If there were any doubts about road race supremacy, Cleveland Forde put those to rest yesterday when he emphatically won Guyana's leg of the 11th South American 10 km Road Classic.
Forde settled the issue with regards to men's distance running and Grenada's Kenisha Pascal cleared the air in the women's edition.
After winning the men's Ainlim and Courts 10 km events earlier this year, the distance monarch confirmed his greatness yesterday with another gold medal display for the event which started on Carifesta Avenue, continued to UG road and finished in the National Park.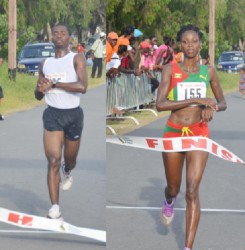 He used his vicious kick and internal fortitude in the last 300m to hold off the best Grenada had to offer, winning the tactical race in 32 minutes, 36.0 seconds.
Forde's payday was $US1000.
Grenada's Sherwin Paul (32.49.10) took silver while Kelvin Johnson claimed bronze with a time of 33 minutes, 23.30 seconds.
Cleveland Thomas (34.01.8), Dennis Horatio (34.21.50) and Winston Missingher (35.22.50) finished fourth, fifth and sixth respectively.
"It was a tough one, it was more than I expected," Forde told Stabroek Sport in a post-race interview.
"The Grenadian and Kelvin pushed me hard earlier in the race, the plan was to move at the half way point but these guys were carrying a pace so I just decided to tuck in and wait."
Forde also intimated that he is looking forward to the second leg in Suriname.
Pascal had to power to victory in the women's edition despite the absence of female rival Eulene Josiah-Tanner who did not compete in the event.
The battle for gold was much closer in the female race as local distance queen, Alika Morgan pushed Pascal throughout the race but faded in the final 100m.
Pascal's winning time was 42 minutes, 28.80 seconds while Morgan took silver in 42 minutes, 35.50 seconds.
Jevina Straker completed the podium (43.18.30), while Andrea Foster (44.02.60) and Surinamese, Ilsida Tomere (44.32.20) placed fourth and fifth respectively.
It was Morgan's second silver in her last two races.
Other categorical winners were Cassie Kirton (Female Junior) in 47 minutes and two seconds, Alisha Fortune (Women's Masters) in 51 minutes and 29 seconds, Carl McKenzie (Male Junior) in 37 minutes and 43 seconds, Eon Archibald (Men's Masters 40-55) in 40 minutes and 29 seconds and  (Llewellyn Gardner (Men's 56 Years and over) in 41 minutes and 46 seconds.
There were 62 starters for the event.
An executive member of the GOA told this publication that the second leg of the South American 10 km Classic which was scheduled to run off on Sunday has been postponed to December.
Around the Web