In sweltering conditions yesterday, Team Coco's, Raynauth Jeffrey scorched a star studded field of rival wheelsmen to emphatically win the second annual Digicel Breast Cancer Awareness road race.
It was a historic day for the national road race champion who stopped the clock in three hours, three minutes and five seconds since he sped off with the champion's trophy and a record $250,000 by far the biggest victory of his promising career.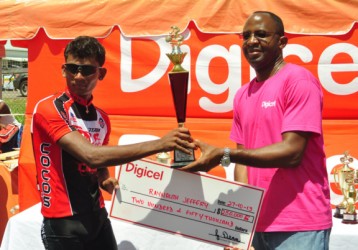 The outstanding 19-year-old took top honours 45 seconds ahead of Godfrey Pollydore (Carlton Wheelers) and Alanzo Greaves (Roraima Bikers Club) who placed second and third in a thrilling two-man sprint finish.
Last year's road race champion, Orville Hinds (Team United), Geron Williams (Continental Cycle Club) and Albert Philander (Team United) rounded out the six for the grueling 80-mile trek which rolled off at Five Corners in Linden and finished with two laps around the outer circuit of the National Park.
The event started off at a fever pitch pace with Jeffrey attacking the rest of the 69 starters from the smoke of the pistol.
He was promptly pursued and caught by Greaves, Rastaff Oselmo and Williams. These four riders then worked as a team to open up a lead on the huge chase peloton.
The four leaders were however, wheeled in by the wave of riders in the surging peloton led by Pollydore, Philander, Hinds, Robin Persaud, Marlon 'Fishy' Williams, last year's winner, Paul DeNobrega and others after riding all the way to Garden of Eden.
At Diamond, Greaves and Jeffrey again led a break which also included Philander, Hinds, Pollydore and Williams and never looked back.
The six riders rode together all the way until the bell lap at the National Park. Soon after in the vicinity of Marian's Academy however, a tireless Jeffrey changed gears and attacked once more.
The rest of the riders failed to respond and Jeffrey blessed with superb stamina increased his lead with every powerful turn of his pedals.
"I was cramping up a bit in the race but I was determined to win," Jeffrey told Stabroek Sport yesterday. He added "These kind of long road races I enjoy riding, I was focused all week and I am glad I came out with the victory today."
After Jeffrey won the event without a rival in sight, Greaves and Pollydore gave the cycling fans something to cheer about when they rose from their saddles about 150m from home.
Both riders who are blessed with superior sprinting ability, staged a fierce sprint battle and went wheel to wheel all the way to the line in a photo finish.
This year's event which was sponsored exclusively by Digicel, attracted 70 cyclists including female champion, Hazina Barrett (Linden Bauxite Flyers).
In brief remarks, the telecommunication company's CEO, Gregory Dean, congratulated all the participants and promised Digicel's continued sponsorship of the calendar cycling event.
Other categorical winners yesterday were Team Coco's Junior Niles (veterans) and Team Coco's Michael Anthony (junior).
Anthony pocketed $60,000 while Barrett and Niles received $50,000 each.
Around the Web