The Georgetown Cricket Club (GCC) retained its GT&T first division national indoor crown, defeating arch rivals Hikers 2-0 on penalty strokes after a locked 5-5 score line at the end of normal time on Sunday.
Raphael DeGroot and Orland Semple netted for the Bourda side while Eric Hing managed to force missed attempts from Devin Munroe and Robert France.
Hosted at the National Gymnasium on Mandela Avenue, France would open the scoring for the Hikers side, blasting home his effort inside the opening six minutes of the fixture.
Their lead however would be short-lived as GCC's duo of Kevin Spencer and Semple netted in quick succession push the Bourda side ahead. GCC would then take a 3-1 lead into half time as Steven Xavier found the back of the net.
Marauding right wingback Shane Samuels would make his presence felt as he found the back of the net two minutes into the resumption of play in the 22nd minute. GCC would restore their two goal lead as Spencer bagged his brace two minutes later.
Hikers would level proceedings in quick succession as Munroe and France etched their name on the scorer's sheet in the 28th and 29th minutes respectively. GCC would answer back as Spencer completed his hat trick in the closing minutes of the fixture.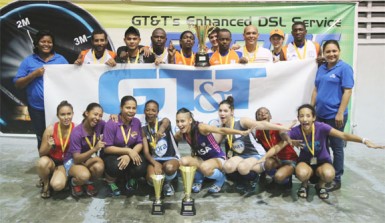 Opting to go out without a keeper, Hikers would find the timely equalizer with France netting from a rebounded shot to push the game into penalty strikes.
In the ladies division, GCC Spartans upset the highly favoured GCC Tigers by a 1-0 margin compliments of an Aaliyah Gordon strike in the 26th minute. In the Veterans final, GCC, led by a Phillip Fernandes helmet trick and Alan Fernandes double crushed Hikers 7-1.
Sibling Stephen Fernandes completed the win with a solo strike while Devin Munroe netted a consolation goal for the losers.
A Jamarj Assanah five goal burst in partnership with a Rayon Branford double led Hikers Recruits to a crushing 10-3 victory over Old Fort in the second division finale. Aroydy Branford, Travon Younge and Michael Harding netted one each in the win.
Shaquille Thomas led the losers with a double while Mark Fraser completed the score line with a solo effort.
In the presentation that followed the conclusion of the event, trophies and medals were presented to the winning teams and individual awardees.
GCC goalkeeper Hing received the MVP for the men's first division competition while Gordon received the accolade for the women's competition. Top scorer Philip Fernandes and dynamic midfielder Assanah were the selected MVP's for the veterans and men's second division competitions respectively.
Around the Web