Port Mourant Training Centre (PMTC 1) on Sunday played unbeaten to win the Berbice Volleyball Association (BVA) third Dilip Budhram Memorial competition in Berbice.
The competition was played on a round-robin best of three basis among the five participating teams.
PMTC 1 were led by setter Jason Seelochan and Most Valuable Player (MVP) Quacy Matheson supported by Trevlon McRae, Luen David, Adriel Moore, Osafa Dos Santos and Samuel Ross.
The eventual champions defeated all four of their opponents in straight sets while Port Mourant Jaguars clinched second place by narrowly edging out Albion Sports Complex by six points after both teams had won two matches and lost two.
Before the start of the competition one minute's silence was observed in memory of the late Budhram, a volleyball enthusiast closely associated with the BVA during the period 1998-2003.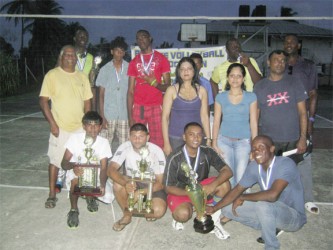 At the presentation ceremony held immediately afterwards, BVA president Gregory Rambarran thanked the members of Budram's family for continuing to assist in the development and promotion of volleyball in Berbice.
He also thanked Ramesh Sunich of Trophy Stall, the management of Guysuco Apprentice entre for the support and the volunteer officials and players for ensuring the successful completion of the event.
Medals were awarded to the following players for their outstanding performances:- Jason Seelochan of PMTC 1 – Best Setter; Ryan Dhoray of Albion Sports Complex – Best Server; Asif Emanulla of PMTC 2 – Best Libero; Quacy Matheson of PMTC 1 – Best Spiker; Trevlon Mc Rae of PMTC 1- Best Blocker; Luen David of PMTC 1 – Best Defence.
Trophies were presented to the captains of the third and second placed teams while the winners received the first place trophy and medals.
The next BVA activity will be a Mini-Volley competition for Primary Schools in the Lower Corentyne area scheduled to commence on November 8, followed by the Rollers Old Boys Champion of Champions Lien Trophy billed for November 9 & 10th at the Skeldon Back Centre, Upper Corentyne.
Around the Web