Football's most coveted crown, the FIFA World Cup Trophy will be arriving on local shores today as part of the penultimate stage of the Caribbean leg of the third ever Coca-Cola World Cup Trophy Tour.
The trophy, which began its journey on September 12, 2013 in Rio de Janeiro, Brazil, will be showcased at the Banks DIH Limited Thirst Park location after arriving from neighboring nation Suriname.
Communications Officer of the industrial estate entity Troy Peters stated that preparation for the trophy's inaugural visit is at an advanced stage. He noted that the venue will be transformed into a sea of red in representation of the Coca-Cola brand.
He added that a packed itinerary is scheduled upon the trophy's arrival which includes media briefing in the airport arrival area and an invitation only trophy gala at the Thirst Park location later that evening.
Departing from the iconic Christ the Redeemer statue, the FIFA World Cup Trophy will travel around the world for nine months before returning to the 2014 FIFA World Cup host nation Brazil.
The 92,942-mile 267-day tour kicked off with visits to Tahiti, Fiji and Vanuatu and will reach 88 countries in the run-up to the event which starts on June 12 next year in São Paulo.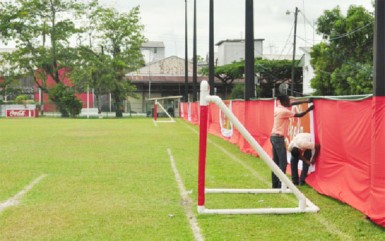 The route will include the first-ever Pan-Latin America tour with events in 39 countries as well as stops in 50 countries that have never hosted the trophy and an unprecedented visit to 34 member nations from the Confederation of North, Central America and Caribbean Association Football (CONCACAF).
Set to be a part of the visiting delegation as a FIFA representative is former Trinidad and Tobago captain and Manchester United and Aston Villa forward Dwight Yorke.
Around the Web