West Indies 'A' middle-order batsman Assad Fudadin yesterday said that the recently concluded tour of India was a dream come true and he relished the opportunity to play with some of the world's top cricketers.
After a somewhat prolific series against India, the batsman sat down with this newspaper yesterday and in the interview spoke of his plans for the future along with his Asian experience.
Fudadin confirmed that travelling to India was a "dream' and he was very "excited" to play in the sub-continent conditions.
"It was my first trip to India and I was very excited to play there in the conditions and test myself," he told Stabroek Sport.
He credited Indian fast-bowling stalwart Zaheer Khan for his performances during the tour.
According to Fudadin, Khan is a "world-class bowler" and it was his dream to face the left-arm seamer, as it was a way to "challenge himself".
Apart from Khan, Fudadin also lauded the other Indian players like Virender Sehwag, Gautam Gambhir and skipper Cheteshwar Pujara who he said were very friendly towards him.
Fudadin said that he was glad to sit and watch as the players went about their duties.
"I was looking at Sehwag batting to try and learn from him after he has been so successful in his career at the highest levels," he said.
Of Pujara, the India 'A' team skipper who hammered the tourists in the final match slamming his third first-class triple hundred Fudadin said: "He is a very patient cricketer, who scores in his own areas and grinds the bowlers."
The 28-year-old Fudadin scored 245 runs from the three unofficial Test matches at an average of 82.66 with scores of, 47, 49, 63 and 86 not out.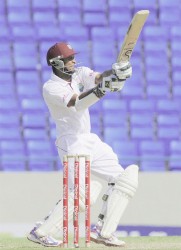 He said that despite missing out on a century he was "happy with his batting form, although there is room for improvement."
He admitted that the highest point of the series was also his toughest, as he found it difficult after arriving two days before the tournament to get his mind and body acclimatized to the conditions but, after battling the humid atmosphere the batsman went on to score 86, his highest score of the series.
He explained that the bigger picture was batting with the tail-enders, while trying to post a defendable target.
A staunch Muslim, the stylish left-hander said that none of his accomplishments would have been possible without that strength of "Allah."
Regarding the future Fudadin said that he wishes to take it "one step at a time" and focus on the present without looking too far ahead, while staying fit, and enjoying his time with the family.
Around the Web