KOLKATA, India, CMC- West Indies spin bowler Shane Shillingford says he is looking forward to the prospects of bowling at the Indian batsmen during the two-test series which begin next week Wednesday on the sub-continent.
"Definitely, I did some homework on the Indian batsmen and I know that they play spin very well and they love to use their feet," said Shillingford.
"It's something of which I am aware and I'm looking forward to playing here."
The Dominican bowler was a mere spectator from the sidelines when West Indies visited India two years ago and played three Tests against Mahendra Singh Dhoni's side.
However he has returned to India full of confidence and as a key member of the West Indies bowling unit.
"Once you're a spin bowler, you have to study the batsman and must have patience," he said.
"I think that's what makes a good spinner – a lot of consistency and a lot of patience. I may not have played the last time, but I gained a lot of knowledge from that experience, and this will help me over the next few weeks".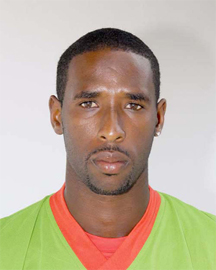 Shillingford has captured 48 wickets at 31.22 runs apiece in 10 Tests and is now the second-best ranked West Indies bowler in Tests at No. 24, behind 14th-ranked fast bowler Kemar Roach.
He is also excited about the prospect of bowling at Sachin Tendulkar. The Indian master batsman has announced the second Test – his 200th – in his home city of Mumbai will also be his final, bringing the curtain down on his illustrious career.
"Certainly, it's a great privilege to play against the master of cricket. I enjoy watching him play," said Shillingford.
"But our plan is obviously to go out there and win. I'm sure he would like to get some runs, but we have our plans as a team. Our goal here is just to win."
Around the Web