The Caribbean Inter-Club Football Matches which is scheduled to start on November 29 at the Georgetown Cricket Club (GCC) ground, Bourda, was officially launched yesterday at the National Communications Network (NCN) studios on Homestretch Avenue.
The international friendly games which are endorsed by the Guyana Football Federation (GFF) are a collaboration between the Georgetown Football Association (GFA) and Vizion Sports and Entertainment Agency.
Jamaica's Boystown FC who are slated to compete in the event will arrive on November 28 where they will face local sides Alpha United and Camptown FC on November 29 and December 1 respectively. Buxton United which is also in the event, will face Alpha United and Camptown FC at the same venue to complete the four-team friendly series.
Vizion Sports and Entertainment Agency Chief Executive Officer Wally Fraser said he was looking forward to the games.
"It's the start of a series we are trying to put together in the Caribbean which will start in Guyana. We hope that it takes off and that we can get it right on the day….It's a lot on the cards to do. We hope it's a success and works for us all. There are 14 countries in the Caribbean that we are going to and I hope that Guyana's does well" he said. Meanwhile, GFA Treasurer Dexter Schultz congratulated Vizion Sports and Entertainment Agency on the venture. "This event gives our teams a chance to judge where they are technically and tactically coming up against a semi-professional Jamaican team," he said. Schultz also pledged that the GFA will always support these initiatives as long as they include the Georgetown side.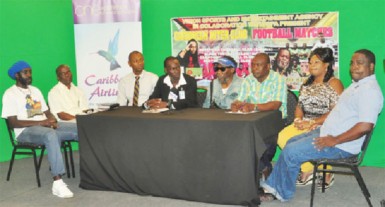 Long-time football supporter Banks DIH Limited is also on board. Communications Officer Troy Peters said, "Banks DIH once again has shown its commitment to football and for the entire year we have displayed that we are one of the pillars of football development…We look forward to this event, sometimes you have to start small but even though it's small I am sure that it will grow and the company will support the venture."
Dion Innis, Sales Executive of sponsors Caribbean Airlines was also pleased about the matches.  "I must congratulate Mr. Fraser for this bold initiative. Caribbean Airlines is delighted to be a part of this event and I am happy that our teams will get a chance to match up with a premier Jamaican side. I wish you the very best and you can count on our support going forward," he said.
In addition, Boystown FC Coach Andrew Price via Skype said his team was coming to play good football and to entertain fans.
"We expect competitive games, I don't think it will be a walkover. We just really want to come and play competitive football and we know the Guyanese teams will do the same." He also noted that "We have a few former senior players in our team and it's about blending the experience with the youth."
Coach of the competing Camptown side FC, Joseph Wilson was also pleased about the venture and grateful to the GFA for recognising his team's abilities. "The opportunity to play international football has not been forthcoming for all club teams. We are going out there to represent the whole nation and we are working towards that," Wilson said.  Buxton United Coach Hubert McPherson echoed these sentiments. "We are glad for this invitation. While we don't know if we will be playing against Boystown, we are thankful for this opportunity and we will be coming out to play football and entertain," he said.
Banks DIH Limited, Caribbean Airlines, Star Party Rentals and NCN are the official sponsors of the event though no incentives will be given to the winning team.
Around the Web