KOLKATA, India, CMC- Head coach Ottis Gibson says he is pleased with the composition of West Indies bowling unit as they prepare to battle India in two test matches starting next Wednesday.
On previous trips to India, the Windies bowling attacks heavily featured pacers who have brought success.  However there has been a gradual shift towards a more balanced attack in recent years and Gibson said he is happy with the bowling attack that also includes spinners Shane Shillingford and Veerasammy Permaul.
"When you look at the way the pitches around the world now, they are not as fast as it used to be," Gibson said.
"The pitches in the Caribbean, do not lend themselves to pace anymore, so there a lot of quality spinners now like Shillingford and Sunil Narine, Permaul and Nikita Miller".
West Indies are currently playing Uttar Pradesh in a three-day warm-up fixture, ahead of the first test against India, starting next Wednesday at Eden Gardens.
It's the only warm-up fixture before the start of the series and the Caribbean cricketers are hoping to benefit from valuable match practice.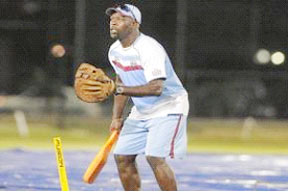 "So you have to look at the conditions you're facing and then pick the team accordingly. When we played in India last time, the pitches sort of favoured the spinners, and so we have to make sure that we have players that can perform well in these conditions," said Gibson.
"We still have some quality fast bowlers – Kemar Roach has been excellent for us over the last two years, Tino Best has also been excellent since his return to international scene, and we also have a young, surprise package in left-arm fast bowler Sheldon Cottrell".
The second test between West Indies and India is scheduled to start November 14 while three ODIs will be played on November 21, 24 and 27.
Around the Web