(Jamaica Gleaner) Minister with responsibility for sport Natalie Neita-Headley on Wednesday came to the defence of the board of commissioners of the Jamaica Anti-Doping Commission (JADCO).
The board has recently come in for harsh criticism for his inefficacy, especially as it relates to claims made by its former Executive Director Renée Anne Shirley that no out-of-competition tests were done during a six-month period last year leading up to the London Olympics.
In addition, the board's deafening silence in the face of scathing allegations made by Shirley and criticisms from the international media, was also highlighted in sections of the local media, with The Gleaner, in a recent editorial, blasting the agency for what was deemed a lack of urgency, in dealing with the issue.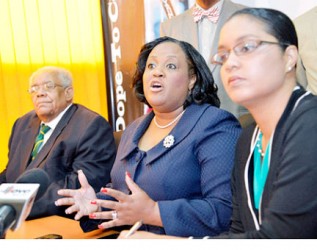 "Its members are guilty, it seems to us, of acts of omission that encourage people who want to bring the integrity of Jamaica's athletics into disrepute. We are not here concerned with claims, in the recent past, of the supposed inefficacy of JADCO's drug-testing regime. Rather, we are appalled at the seeming lack of urgency on the part of the agency to prove to its global counterparts that it has put its house in order," the editorial noted. However, with several of the board members standing behind her as she spoke to the media, the minister when asked if she believes the board should step down, said, "I believe the persons who serve on this board are persons of integrity. I believe there are persons who the country itself would find no individual difficulty in trusting their integrity, honesty and their support of sport over time." "I think, however, if questions or challenges were to arise regarding the perception of anything untoward, I believe the board members themselves and myself would have no difficulty in restructuring," Neita-Headley added.
Around the Web