National junior champion Narayan Ramdhani along with national senior champion Nicholas Ali has been selected by the Guyana Badminton Association to participate in the seventh annual Suriname International badminton tournament in neighbouring Suriname.
According to a press release from the GBA, the event will be held at the Ismay van Wilgen Sportshal from November 13-16 and Ramdhani and Ali will participate in the men's singles and doubles competitions.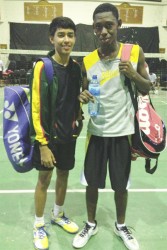 Ramdhani won a silver medal at the Suriname Easter International tournament to add to his bronze medal in the Caribbean Championships and the South American Youth Games.
The GBA will also hold its bi-annual general elections for 2014-2016   early in December.
Around the Web