(Reuters) – Australia captain Michael Clarke has been reprimanded for showing dissent at an umpire's decision in a Sheffield Shield match, the country's cricket board said yesterday.
The Australian captain was reported on Thursday for using the 'T' sign", the standard gesture to seek a third umpire review, when an on-field official gave the benefit of doubt to a Tasmanian batsman after New South Wales fielders had claimed a low catch at gully.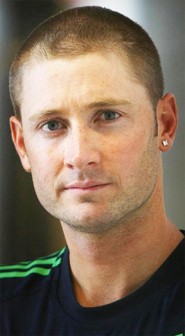 Clarke's gesture was considered as a minor show of petulance as Shield matches are not televised and a third umpire is not used.
"As part of the code of behaviour revisions, if any player uses the 'T' sign, in jest or not, it will lead to an automatic report as it shows dissent at the umpire decision," Cricket Australia said in a statement.
Clarke, whose struggles with the decision review system was evident in the team's 3-0 Ashes loss in England this year, admitted to what was his first offence in the past 18 months.
The slap on the wrist completed Clarke's forgettable Blacktown outing on his return to action after resting an injured back, having also been clean bowled by quick Ben Hilfenhaus for seven earlier in the match.
Around the Web