Queen's College `A' led by top player Shemar Britton easily defeated West Demerara in the U18 category as the Digicel-sponsored schools table tennis tournament commenced yesterday afternoon at the Cliff Anderson Sports Hall.
Also securing wins in that category were Mae's A and Bishops A who defeated ASH Educational Trust B and Central High School respectively.
Queen's College romped to a 3-0 win over West Demerara with Shemar Britton defeating Shaquille Bazil 11-5, 11-3, 11-5 while Ryan Narine defeated Jamaal Patterson 11-6, 11-7, 7-11, 11-5. Britton and Narine then eased past Patterson and Bazil 11-5, 11-6, 11-5.
Mae's A also won by a 3-0 margin over ASH Educational Trust B with Miguel Wong defeating Dominique Junior 11-3, 11-1, 11-3 and Kyle Edghill defeating Bryan Truman 11-1, 11-1, 11-1.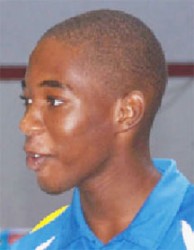 Edghill and Wong then defeated Truman and Junior 11-3, 11-1, 11-3 in the doubles.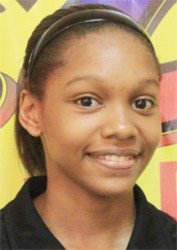 Also winning in the U18 category   was Bishops' High School who defeated central High School 3-0 with Chelsea Edghill defeating Jerome Mitchell 11-9, 13-11, 11-7; Jamaal Duff defeating Kevin Anderson 11-5, 11-5, 11-5 and Edghill and Duff defeating Mitchell and Anderson 11-5, 113-11, 9-11, 11-3.
In the final U18 match St Joseph's High defeated ASH Educational Trust A with Kareem Mc Kenzie defeating Anthony Lustal 11-4, 11-4, 11-6; Scott Garraway defeating Luyancia Griffith 11-5, 11-5, 11-3 and Mc Kenzie and Garraway defeating Lustal and Kenroy Greene 11-2, 11-4, 11-5.
In the boys u11 category Terrence Rausch scored an upset win over Tyriq Saunders but Rama Krishna went under to North Georgetown 2-3.
Rausch defeated Saunders 6-11, 14-12, 8-11, 11-8, 15-13 and later came back to defeat Neveah Clarkston 11-7, 11-9, 11-6 for his team's two wins.
North Georgetown's wins came from Saunders who defeated Tromond Eversley 11-2, 11-5, 11-5; Clarkston who defeated Eversley 11-0, 11-2, 11-3 and the pair of Clarkston and Saunders who defeated Eversley/Rausch 11-8, 11-8, 11-6 in the doubles.
In the final U11 match Mae's B defeated Mae's A  with Brandon Jaikarran defeating Yerdister Persaud 11-8, 11-9, 11-5;Nyron Bissu defeating Herman Dilip 11-6, 11-8, 11-7 and Bissu and Kaysan Ninvalle defeating Dilip/Persaud 11-8, 11-6, 11-9.
The competition continues this morning with play in the U13 division following which there will be the opening ceremony which will be attended by Digicel's Sponsorship Manager Gavin Hope, the Minister of Culture, Youth and Sport Dr. Frank Anthony and  Director of Sport Neil Kumar.
.
Around the Web