The Georgetown Cricket Association (GCA) and the Hadi's World Incorporated & City Mall yesterday launched their 2013/2014 First Division tournament, along with honoring the current winners of this year's leg of the competition.
Held at the Georgetown Cricket Club (GCC) pavilion, the simple ceremony featured representatives of the sponsors along with GCA executives and other members of the club and the winning 2012/2013 club teams.
The 2014 and remainder of this year's fixtures will be announced shortly. However, organizers are looking at the upcoming week to bowl off matches at available venues in the city.
Demerara Cricket Club (DCC), were winners of the competition with 136 points and GCC runners-up with 132 points. The champs received a trophy along with $120, 00.00, while second place collected their trophy and $80, 00.00 cash.
Third place team GNIC, received their trophy and $40,000.00 for their efforts. President of the GCA Roger Harper wished the respective winners the best of luck, while urging them to continuing performing well.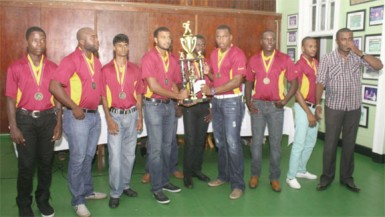 Chairman of the Competitions Committee, Shaun Massiah noted that the GCA were "grateful" for the sponsorship, while adding that the tournament continues to do well for Georgetown as it churns out world-class players. He also lauded the support of the players, coaches and managers.
Meanwhile, representative of the sponsor Hadi's, Desmond Helwig stated that his company was extremely delighted and had no hesitation in sponsoring the upcoming leg of the tournament as they had utmost respect for Harper, who he described as one of the most disciplined cricketer personalities he knew.
At the post ceremony presentation, DCC skipper and all-rounder Christopher Barnwell briefly applauded hi team and the other respective teams, while encouraging all players who received medals and spoils, along with the non-recipients, to continuing playing hard and to motivate themselves in the future.
The awardees are as listed:
Tournament Most Valuable Player (MVP)-Leon Johnson (GCC)
Most wickets- Leon Johnson (GCC)
Best all0rounder- Leon Johnson (GCC)
Best fielder, most dismissals- Devon Charles ((GCC)
Batsmen with the highest individual score- Rajendra Chandrika (Everest)
Most runs of the tournament- Rajendra Chandrika (Everest)
Best bowling in an innings- Shaheed Mohamed (GNIC)
Around the Web