Star Party Rentals became the first corporate establishment to throw its support behind the Georgetown Football Association (GFA)/Banks Beer Cup, donating a undisclosed amount to the association at a simple handing over ceremony at the entity's Campbellville location yesterday.
Chief Executive Officer Lennox Cush stated that his company just like the GFA event is a growing enterprise and that sports is a major source and vehicle for bringing individuals for various backgrounds and walks of life together.
"My company is a young establishment and I would have benefitted from this event. We are an establishment that supports support, I am a sports man by nature so we will always support sport" added Cush.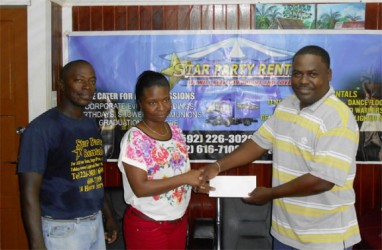 The former national cricketing stalwart further stated "I expect this year's event to be bigger and better. I expect a more much competitive tournament being that all the teams are back in the fold. My company is about developing Guyana and nothing brings us together like sport".
GFA Treasurer Dexter Schultz thanked the company for their continued commitment while stating that he hopes the partnership between the entity and the association continue can to prosper and develop for years to come.
The GFA/ Banks Beer Cup is expected to be officially launched  in the upcoming week.
Around the Web