In windy conditions at the Seawall Bandstand yesterday, national rider, Marlon 'Fishy' Williams returned to his triumphant ways by blowing away a star studded field to emphatically win the feature category 1-4, 30-lap event of the 16th annual Troy Humphrey Memorial event.
William's tactical but dominant display was so convincing, he carted off nine of the 10 sprint prizes along with the $25,000 first prize in the Roraima Bikers Club (RBC)/Humphrey's Bakery-sponsored party atmosphere event which attracted 30 of the nation's top riders.
Williams led his Team Roraima club mates, Alanzo Greaves (other sprint prize winner)and Raymond 'Steely' Newton who played major roles in his success onto the podium.
National wheelsman, Geron Williams and last year's and 2011 senior road race champions, Orville Hinds and Walter Grant-Stuart completed the top six paid positions.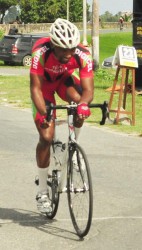 The event pedaled off at a pedestrian pace. However, from the second lap, Greaves, current road race champion, Raynauth Jeffrey and Alonzo Ambrose went on the attack and enjoyed the lead until Williams made a solo move and took over four laps later.
With Williams in a top gear, the lead ballooned to 20 seconds with 20 laps to go. At the half way mark, the lead grew by a further five seconds.
At lap 17, the Hinds brothers (Delroy and Orville) of Team United went to the front and started to lead the chase peloton which included Geron Williams, Godfrey Pollydore, Paul Choo We Nam, Greaves, Newton and Grant-Stuart back to Williams
With 10 laps to with the peloton urgently working to catch Williams, the lead was drastically reduced to seven seconds.
However, in  a praiseworthy display of team work, Greaves and Newton went to the front of the pack and dropped the tempo once again to help Williams successfully increase his lead.
At the bell lap Williams' lead was in excess of 30 seconds and the race was just for second.
With 150m to go Newton was primed for the silver as Greaves battled Williams for the bronze but Greaves surged past Newton and RBC earned a clean sweep of the podium places.
Other winners at yesterday's eight-race meet were Mario King (Juniors and Juveniles) Talim Shaw (Veteran's Under-50 Years), Joelyn Joseph (Veteran's Over 50 Years), Hosea McAlley (Mountain Bikes Open), Sherwin Sampson (BMX six to nine), Naomi Singh (Females), Jamal John (BMX Open) and Team Continental (Team Time Trial).
According to president of the RBC, Brian Allen, the event was a resounding success and he envisions a bigger and better staging next year.
Managing Director of Humphrey's Bakery, George Humphrey echoed similar sentiments and also thanked the cyclists for competing.
Around the Web